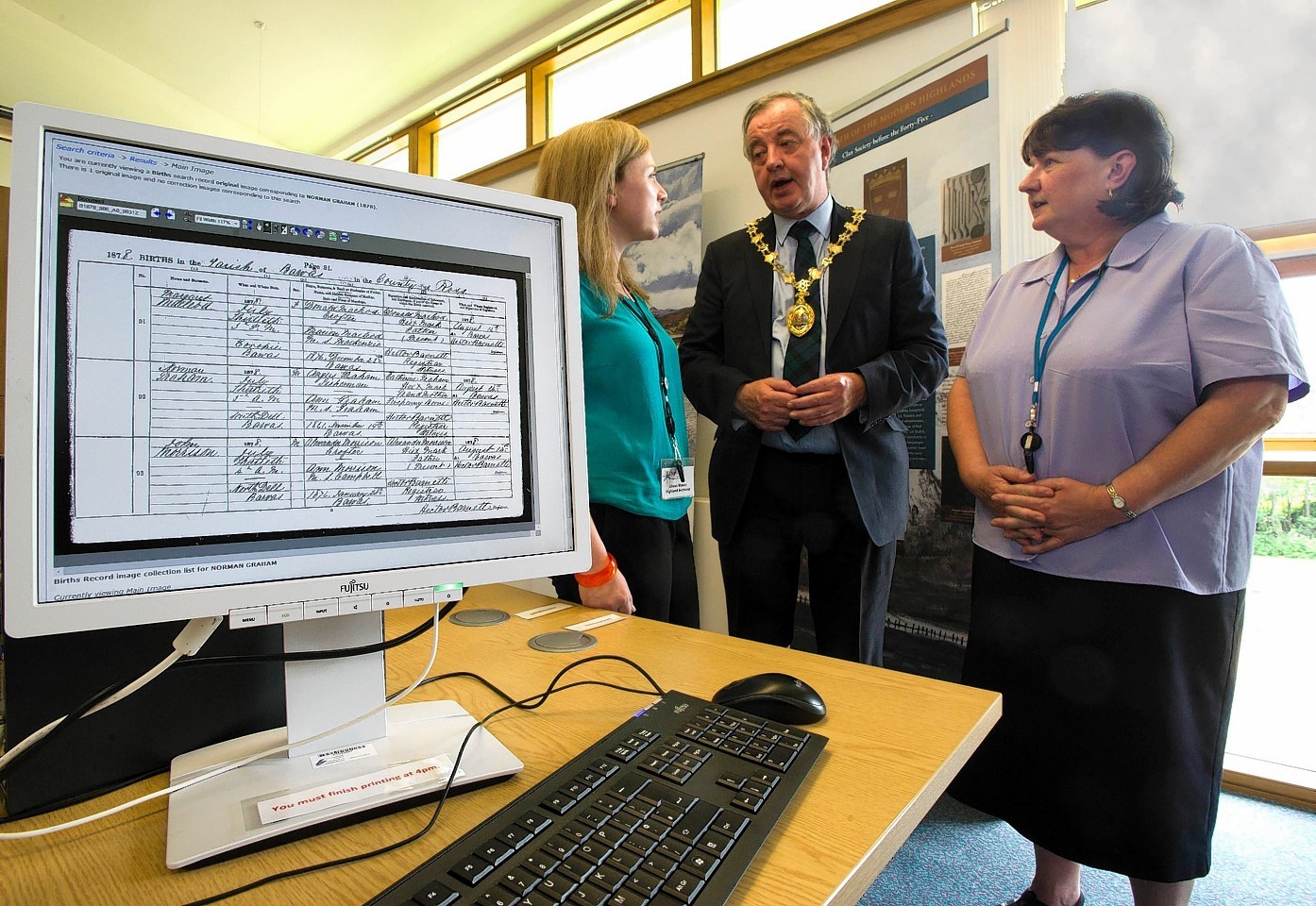 The National Records of Scotland archive and genealogy website is now available to people in the Highlands.
The ScotlandsPeople network can now be accessed through a new local family history centre in Inverness, which was launched yesterday in the city.
Members of the public can use ScotlandsPeople via four computer terminals in the Family History Centre at the Highland Archive and Registration Centre in the Bught area of Inverness. Three computers can be booked in advance and one is available for drop-in visitors.
People using the network at the Inverness Centre will have access to a wealth of historic records from across Scotland. These include census returns from 1841 to 1911, Old Parish Registers up to 1854 and births, marriages and deaths from January 1855.
Bringing the ScotlandsPeople network to the Highlands is a joint project between the National Records of Scotland, the Highland Council and High Life Highland.
Provost of Inverness, Councillor Alex Graham, who is a keen amateur historian, said: "I am delighted that these national records are now accessible to people in the Highlands. This is a great boon for those who either don't have personal computers or don't wish to make the journey to Edinburgh to consult the records. It will be an invaluable asset to amateur and academic historians in the Highlands and also an added boost for genealogy tourists."
Ian Murray, chief executive of High Life Highland said: "Ancestral tourism is growing year on year and we have a wealth of information available in the Highlands. We are very pleased to be involved in a partnership that will allow local access to residents and visitors alike and expect a high level of demand in the coming months."
Specialist staff will be on hand to help people using the facilities, which are open Monday to Friday from 10am to 4.30pm.
A good reference collection is also available in the Family History Centre and original archive material in the Archive Search Room. Members of the Highland Family History Society can also give advice.
The cost to access the ScotlandsPeople network is £15 per day or part day and copies of historic images can be printed for a small fee.
For further information or to make a booking please phone 01463 256400 or email: inverness.registrars@highland.gov.uk.