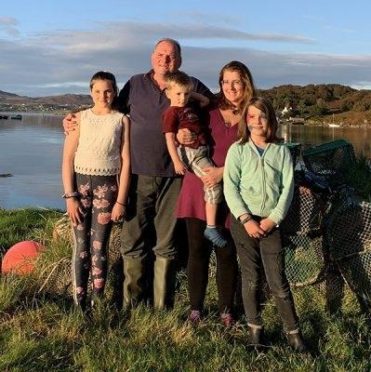 A Highland family are giving the public a rare glimpse into the trials and tribulations of life on a remote island in Wester Ross as part of a TV documentary to be screened tonight.
Ian and Jess McWhinney live on the tidal island Dry Island, located within Badachro Bay on the west coast with their three children Iona, 14, Isla, 11, and Finlay, five, alongside their dog.
Dry Island has been home to the McWhinney family since the 17th century, with ancestors owning, residing and working from the island over the last 300 years.
Access to the secluded island can only be achieved via a floating footbridge which Mr McWhinney built connecting to the mainland 25 years ago – or by boat.
As part of Channel 5's documentary series City Life to Country Life, the family of five are giving viewers a rare snapshot into living the "simple life" on the west coast of Scotland.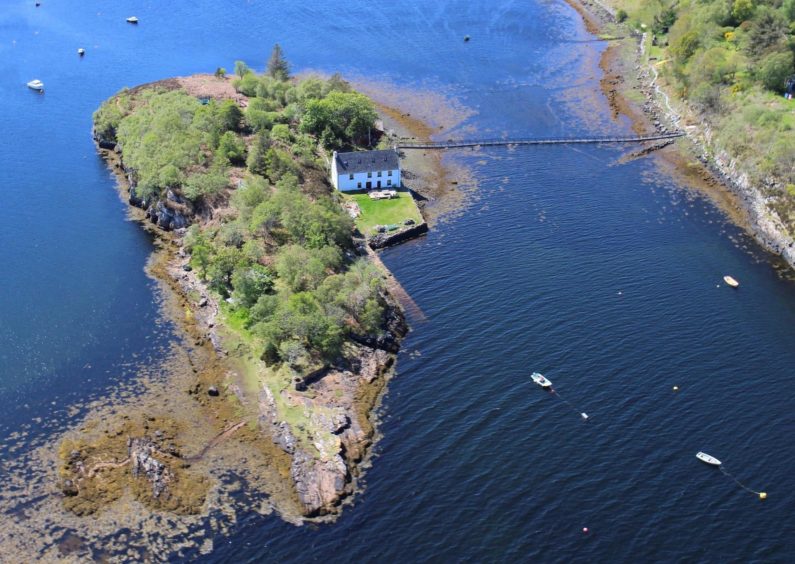 The father-of-three spoke of the challenges they face amidst harsh weather – particularly in ferrying the children six miles by boat to catch the school bus.
"Bad weather is the biggest problem," he said.
"Getting things delivered, everything has to come over by boat so you have to bear that in mind whenever you are taking anything over.
"Luckily we have a footbridge now so that's made a big difference but in bad weather it's still a 15 minute walk here to the island.
"We normally manage to get the kids to school. Sometimes if it's too windy they definitely won't get to school in the morning but you can normally wait and there are lulls in between the gales ."
Despite the challenges, the 10th generation fisherman says the "positives definitely outweigh the negative aspects".
He added: "The positives are you have your own islands with the sea right on your front door. The kids are into swimming, paddle-boarding, all sorts of water sports like that so that is right in front of your door.
"You have privacy whilst living in a beautiful location. We have the freedom to roam around. It's not the biggest island but we are pretty self-reliant."
For the last 38-years, the 53-year-old fisherman has spent his life on the water providing for his family and keeping his family's legacy alive.
However, Mr McWhinney admits due to the changing climate, he has had to keep up with the demand of modern life and diversify to make the most of the landscape around them.
He said: "My family have always been fishermen as was I myself. I started fishing full-time when I was 15. I went to Lewis Castle College in Stornoway to the nautical college there and I stayed on for three years and I have fished ever since.
"That's how I made my income for 38 years but obviously the fishing industry has declined through overfishing so there are less and less fish out there being caught.
"I diversified about 25 years ago and built a cabin on the island so I started doing self-catering."
The family now offer guided shellfish safaris, giving guests a top class experience aboard a working, traditional fishing boat and offer accommodation.
In the documentary, Mr McWhinney says he hopes his children will one day carry on the sacred traditions of his ancestors.
He said: "It's more than a home.
"My family have been here for hundreds of years, fishing or fish curing. It's great to have a sense of belonging to one place and as I've got a young family growing up here, I hope that they'll continue that tradition."
Viewers can catch all the action at 7pm on Channel 5 this evening.