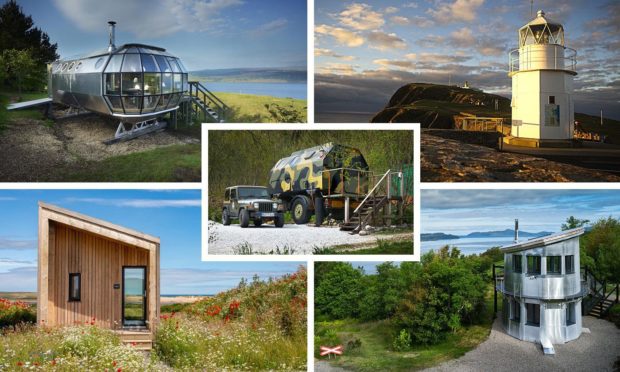 With uncertainty surrounding international travel as Scotland eases out of lockdown restrictions, holidaymakers are having to be more open to creative ideas for their breaks this year.
Staycations in Scotland are expected to become even more popular as some foreign countries continue to be subject to isolation rules if visited.
Although big name holiday companies capitalise on quality service or convenient pricing to draw visitors in, there are establishments dotted around the north and north-east that offer their own unique take on the standard holiday.
These unique properties are filling up fast with vacationers eager to try something different this year.
Here are some of the quirkiest places to stay in the Scotland but please note these properties are subject to availability should you wish to book:
Glenshee Treehouses – Located near Blairgowrie, these two structures offer both seclusion and comfort. Each treehouse has its own secluded spot on the hillside, with amazing panoramic mountain views to enjoy especially in the hot tub. 180-degree floor-to-ceiling windows allow light to flood inside by day, and act as a canvas for stargazing later on. Prices start from £195 per night with a minimum three night stay.

The Glenshee Treehouses have plenty of amenities such as wood burning stove andside hot tub. Picture by Craig Cantwell Photography

ACE Hideaways – This aptly named site (ACE is an acronym for Adventure, Condition and Essence) located in Scotland's Findhorn glen, is the perfect place for adventurers, thrillseekers and those just looking to relax. The canvas bell tents are fully equipped with comfy mattresses and a softly crackling woodburning stove. The site also has a five-star VisitScotland activity centre which offers white water rafting, canyoning, woodland paintball and disc golf. Prices start from £50 per night (sheperd's hut) with a minimum two day stay.

ACE hideaways provide home comforts and personal touches in their accommodation

Boris the Military Pod – A former military trailer which has been given an ingenious new lease of life as a unique island abode for two guests. Arriving at Boris is an adventure in itself. Either take the famous and uber-romantic Glenelg Ferry whose slipway is barely a quarter of a mile form Boris, or take the Kylerhea Pass and take in the breathtaking views of the mountains of Glen Sheil on the mainland. Prices for the first night start at £95, dropping to £65 for every night after that.

Boris the Pod is completely self-contained with a ktichen and wet room on board. Photo supplied by Sam Brown.

Down on the Farm – A family-run farm on the coast of Aberdeenshire, Down on the Farm is one of those rare spots that allows you to be removed from the hustle and bustle of everyday life and also fully self-sufficient in your off-grid home. One of the stand-out spaces is the Coastal Carriage which is a converted vintage rail carriage overlooking the Moray Firth providing incredible views. Prices start from £55 per night.

The Coastal Carriage is just one of several holiday lets on the farm. but it arguably has the best views. Photo by Kenny Elrick

Muckrach Castle – Set in an acre of beautiful gardens, the castle offers outstanding views over the Spey Valley and the Cairngorm mountains. Standing on the top of a steep bank in the valley of the River Dulnain, it is ideally suited for family holidays for up to 10 and those looking to relax and enjoy the tranquillity of the Cairngorms. Prices start from £996 for three nights.

Muckrach Castle is set in the picturesque rural Highlands of Scotland within the Cairngorm National Park, an area renown for its outstanding scenery and wildlife. Photo by Paul Tomkins.

Sumburgh Lighthouse – Breathtaking views are offered at this Shetland landmark. Sleeping five in total, the Lighthouse Keeper's cottage is a gorgeous home-from-home, promising to make your visit to Shetland as special as can be. Attractions nearby include the RSPB Nature Reserve at Sumburgh Head which is home to tens of thousands of seabirds in the summer, from kittiwakes to guillemots. It's also a perfect place to spot Shetland's famous puffins. Prices start at £553 per week.

Sumburgh Lighthouse allows visitors to explore the history and natural heritage of Sumburgh Head from early geological beginnings to the large variety of sea birds in the area. Photo by Shutterstock

The Beekeeper's Bothy – Situated in the village of Newburgh facing the scenic Ythan Estuary the bothy, which is one of three, presents an escape from life. Tranquil and idyllic for up to four guests the bothy is within walking distance of a local grey seal colony. The site offers a 'Horse on Holiday' package during the summer months, with accommodation for your horse with access to the beach. Prices start at £85 per night.

The cosy Beekeeper's Bothy offers an escape from life to enjoy the tranquility of being beside the sea. Supplied by Tahuna Bothies

The Hobbit Hideaway – Nestled in a beautiful area of Speyside, the Hobbit hideaway ensures guests are left charmed by its uniqueness. The building is made from natural materials such as stone, earth and clay which led them to win "Best Green Holiday Home" by the European Holiday Home Association 2019. The purpose is to bring families and friends together to spend quality time immersed in the natural world away from technology, and the stresses of daily life. Prices start from £170 (4 people) per night.

The Hobbit Hdeaway provides guests with a way back to nature using all natural materials and ingredients in what they do. Supplied by Kim Frazer.

Airship 002 – This truly eye-catching design sits overlooking the Sound of Mull and is perfect for a romantic getaway. The insulated aluminum pod designed by Roderick James is a sustainable getaway where you can gaze at the twinkling constellations through dragonfly windows. While it is certainly unqiue it does have amenities such as spring water, mains electricity and fast broadband connection. Prices start from £400 for three nights.

The Airship 002 is the brainchild of Roderick James Architects who wanted to create something unique. Photo by Nigel Ridgen.

Pilot House – Following the success of the Airship 002, the owner wanted to take key elements of the design into a new project. The two storey PilotHouse was the result. Completed in September 2020 and instantly featured in top magazines and filmed for TV, it comprises an elliptical living space on first floor with bedroom, study and shower room on the ground floor. A balcony provides spectacular views towards Tobermory and out to sea. Prices start from £450 for three nights.

Another Roderick James design, the building was inspired by the conning tower of a submarine which is known as a Pilot House. Photo by Nigel Ridgen.