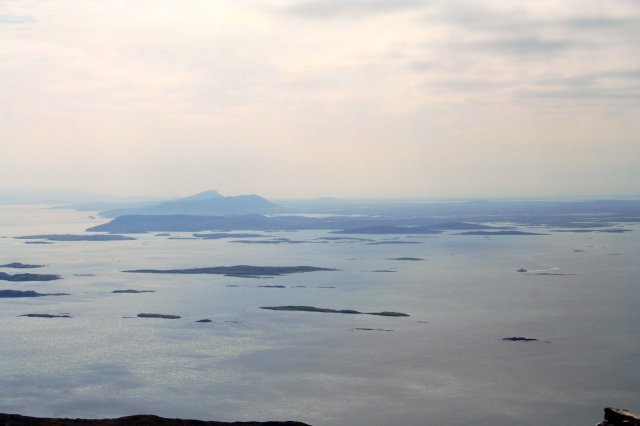 Equipment worth £3.6million is lying at the bottom of the Sound of Harris after a high-tensile cable snapped aboard a specialist ship.
The French-registered Rene Descartes was laying fibre-optic cable between Harris and Uist to bring superfast broadband to the southern-most isles of the Outer Hebrides.
Cables said to be capable of bearing 10tonne loads snapped while lowering an 8tonne submersible plough into the water.
At a depth of about 370ft in the water off North Uist the equipment is too deep for a dive team.
Orange Marine, which operates Rene Descartes is yet to send a formal recovery plan, according to project managers, BT.
A BT spokesman said: "The plough became stuck in very soft seabed sediment while the cable-layer was working on the inter-island Harris to Uist cable and during attempts to recover it the tow wire broke.
"We are waiting for a formal plan from Orange Marine as to what is going to be done to recover it.
"The crew have marked the spot with a buoy and the master of the Rene Descartes has informed Marine Scotland, the Maritime and Coastguard Agency, the Northern Lighthouse Board and Stornoway Coastguard, giving them the location details.
"The subsea work has continued, with the cable being laid out on the seabed and buried by one of the remotely operated underwater vehicles."
Rene Descartes is currently sitting in Lochmaddy Bay.
The incident is a setback for the local fishermen who use the waters. They had already been asked to move from the area to allow the cable-laying to proceed, with an offer of compensation.
A number of fishermen have moved to deeper waters in the Minch, less ideal for the time of year, they say.
One fisherman, who did not want to be named, said: "The tides are very strong just now and we would prefer to be working in shallower water.
"The weather is on our side and we must hit this window now before the weather turns in order to make enough money to see us through the winter.
"We need to be compensated for every moment lost because of this incident."