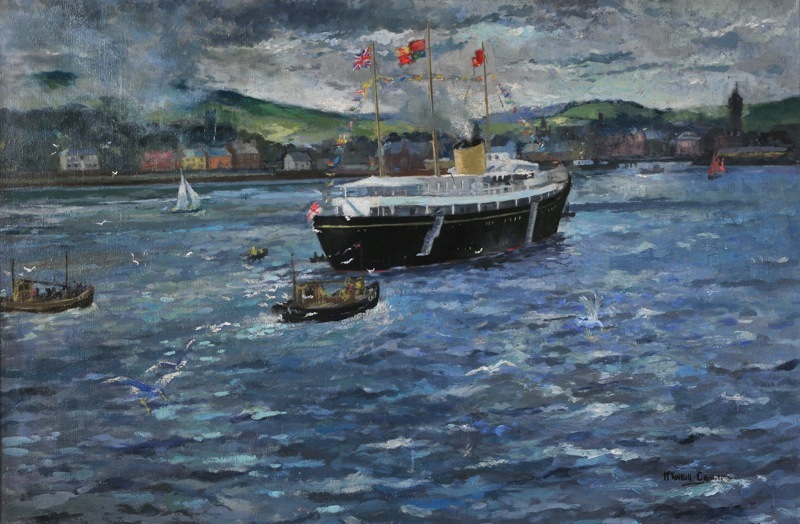 Oil paintings held for safekeeping by Argyll and Bute Council are being displayed online.
The Painting of the Month initiative aims to increase the number of people who can and enjoy the art.
People can visit www.argyll-bute.gov.uk/painting-month-september-2014-hms-britannia#overlay-context=painting/gruinart-islay to view this month's painting and read details of the artist and the subject of the painting.
The oil painting featured for September is HMS Britannia by Scottish colourist, the late John McKinnon Crawford. Dated 1957 – 1962 it depicts the Royal Yacht Britannia in Campbeltown Loch and is currently exhibited in Campbeltown Museum.
Mr McKinnon Crawford's daughter, Cara McKinnon Crawford, is an acclaimed artist herself and is based in Lochaber.
The council's policy lead for community and culture, Councillor Robin Currie, said: "The council has been entrusted with the care and safekeeping of a wide variety of works of art in every medium.
"They contribute greatly to education in our schools as well as providing a rich cultural experience for visitors to our public buildings, museum and libraries.
"Through providing an online access point we hope people will take the opportunity to enjoy some of this work and perhaps be inspired to explore the collections further by checking for the featured painting each month and through ongoing exhibitions which will be publicised."
In three collections there are in excess of 350 works of art, which are shown in offices, schools and public buildings and special exhibitions. They are The Argyll Collection, the Anderson Trust Art Collection and the council's Museums and Libraries Collection.
The Argyll Collection, with 179 pieces, was the brainchild of James H Tyre, art advisor for Argyll County Council (later Argyll and Bute District Council) from 1960 to 1988. He purchased a variety of artworks as a valuable learning resource which was distributed to schools.
Argyll and Bute Council's Museums and Library Collection has 89 pieces, including oil paintings, watercolours, drawings, prints, sculpture and textiles. This collection is on display in Campbeltown Museum, branch libraries and council buildings all over Argyll and Bute.
The Anderson Trust Art Collection comprises around 90 works and a selection of these paintings is displayed in Helensburgh Library from January to June each year.