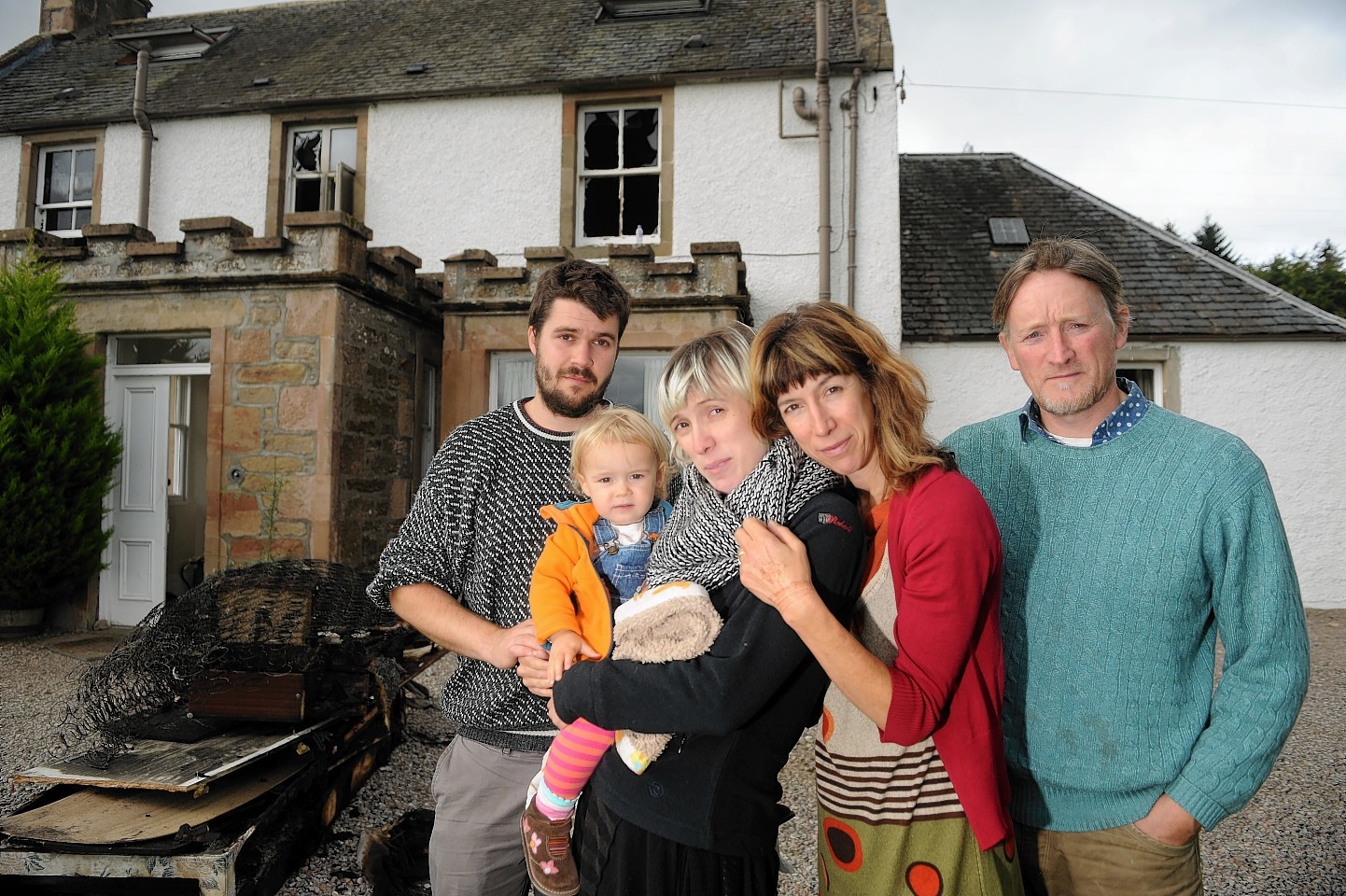 A mother ran into a burning bedroom to save her baby girl as fire engulfed a family's holiday home in the Highlands.
Rachael Macintyre grabbed daughter Nayara and fled to safety after the blaze broke out at a farmhouse in Ross-shire.
The fire started in the 22-month-old's upstairs bedroom not long after she had been tucked into her cot.
Two fire crews from Dingwall and one from Beauly – some wearing breathing apparatus – battled the blaze.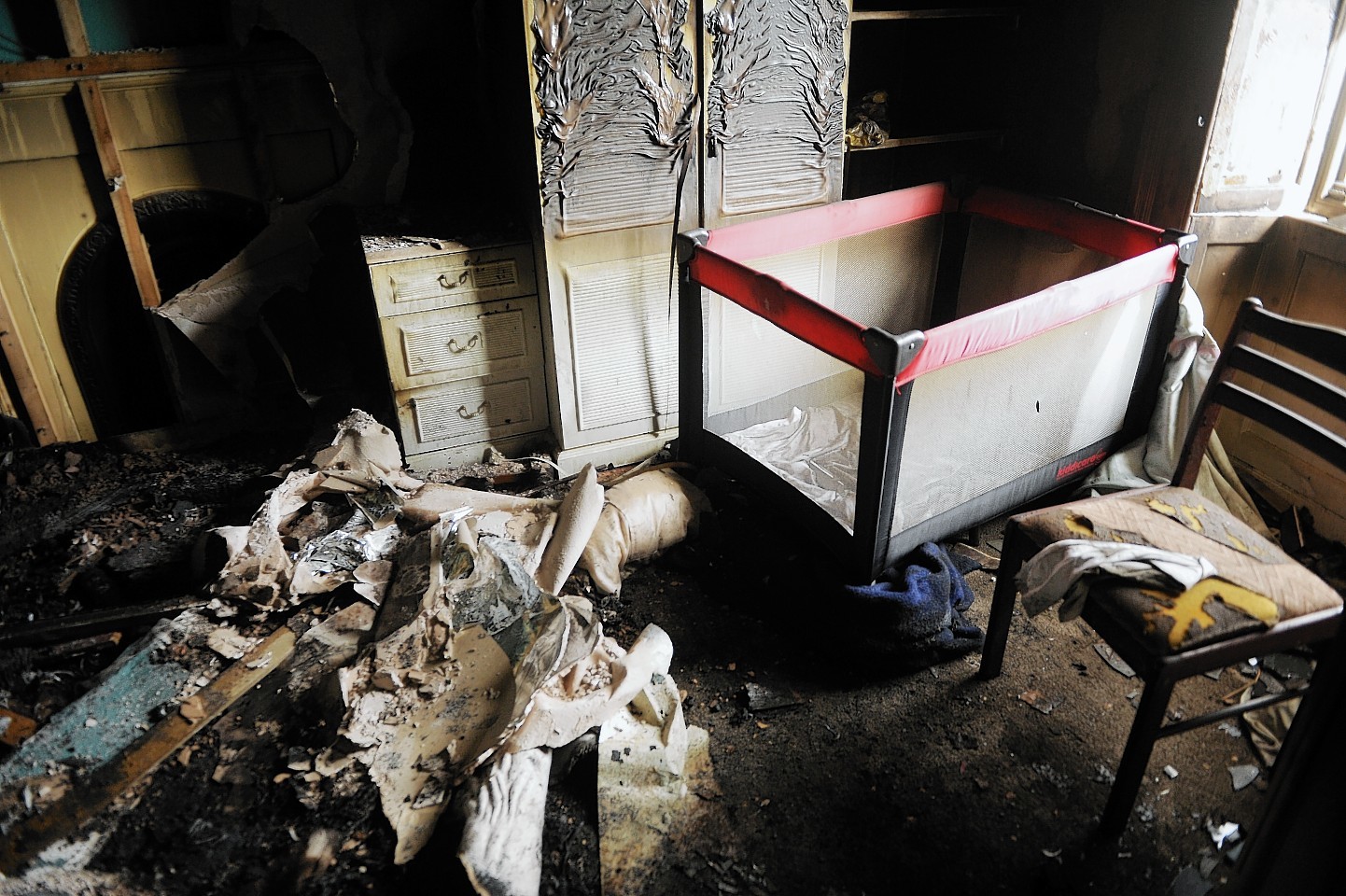 Two main jets and two hose reel jets were used the douse the flames.
The possibility that the fire was started by a faulty electric lamp was being investigated last night.
Acrobat Mrs Macinytre, her husband Daniel Lacasta Fitzsimmons and parents Symon Macintyre and Kim Bergsagel are all members of travelling theatre group Vision Mechanics.
The Edinburgh based family are due to stage a spectacular open air art show in Evanton Community Wood this weekend.
The fire drama happened at Dunglass Farmhouse on the Brahan Estate near Maryburgh.
Mrs Macintyre said: "Daniel had put Nayara to bed and we were downstairs, about to put a film on, when the smoke alarm went off.
"I had no idea there was a fire in the bedroom but I ran upstairs because I thought Nayara would have got a fright from the noise.
"I saw the fire and I just didn't think. I instinctively ran in and grabbed Nayara and got out again. The fire was already so big and the dresser was on fire.
"Daniel tried to go upstairs and fight the fire but it was too hot.
"I'm just so glad that the smoke alarm was working. It doesn't bear thinking about what would have happened if it hadn't gone off."
Symon Macintyre thanked the fire brigade and admitted his family had been fortunate.
He said: "The fire brigade got here very quickly and did such a good job.
"Looking back we had an incredibly lucky escape."
Incident commander David McDiarmid, said: "The build-up of heat made it very hot as crews made their way upstairs.
"The family had been alerted to the fire by the smoke detector and had tried to extinguish it using a fire extinguisher, but to no avail. They then closed the door and left the property.
"This incident highlights the value of having a working smoke alarm as it provides a crucial early warning.
"The occupants did very well and we would encourage anyone who experiences a fire within their home to get out, stay out and call the fire service, which this family did."
Mrs Macintyre, who will perform as an aerialist acrobat during this weekend's show, admitted that she had considered going home to Edinburgh after the incident, which happened late on Monday night.
But she said: "As they say in the theatre world, the show must go on.
"We're looking forward to putting on the performance at the weekend and it should be quite spectacular."
It will be the first ever theatrical show put on in Evanton Woods, and the audience will visit five locations with the performers displaying a combination of aerial work among the trees, shadow theatre and sound and film.
Tickets for the Friday and Saturday night shows are available from Cornerstone Cafe in Evanton or Eden Court in Inverness.