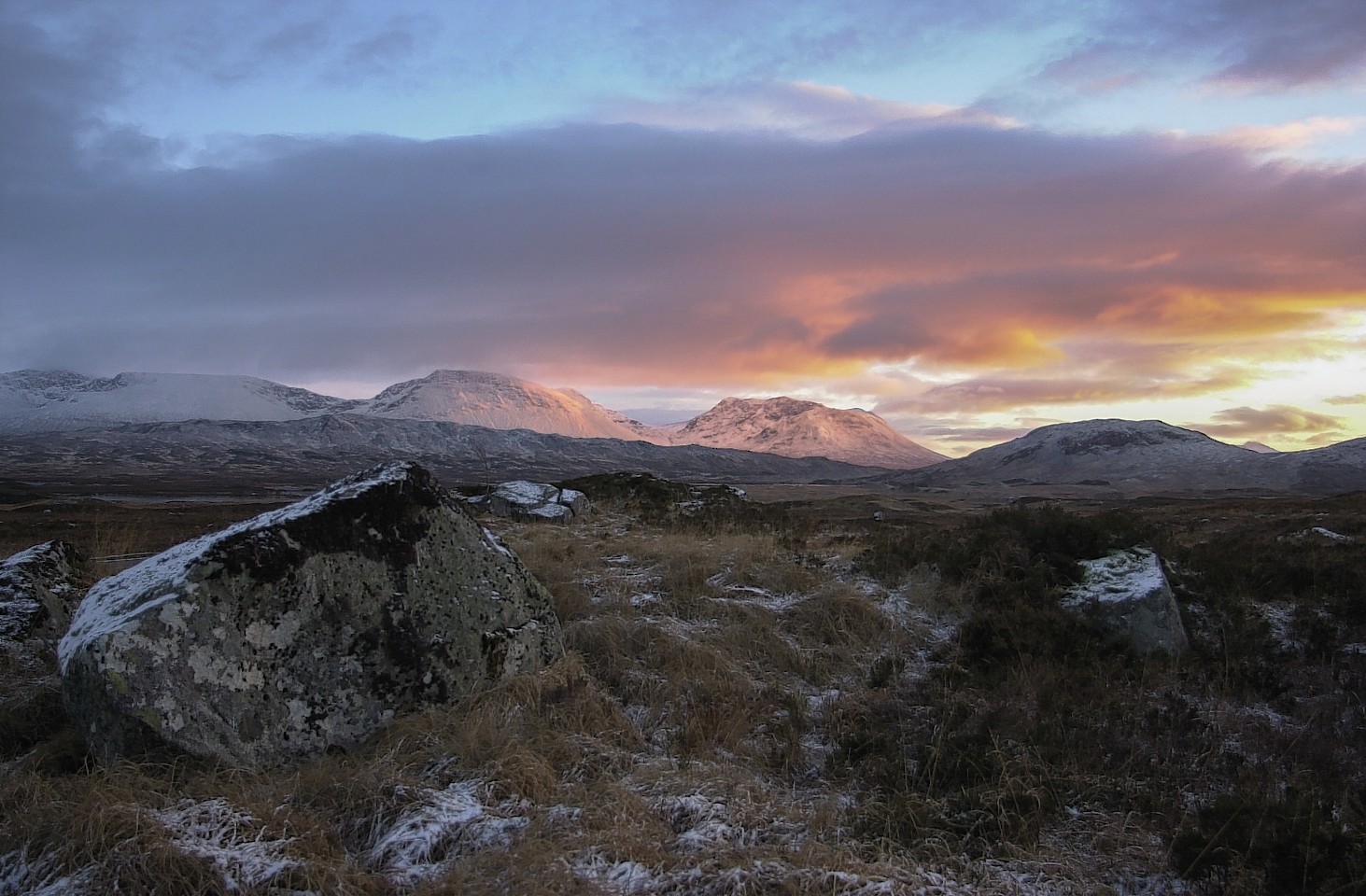 A charity has warned building giant turbines in one of the Highlands' most picturesque areas could have a "disastrous impact" on Scotland's reputation for spectacular landscape.
The stark prediction from wild land organisation the John Muir Trust was delivered on the eve of a Holyrood debate on the issue.
The trust said the proposed Talladh-a-Bheithe windfarm would ruin views from 5% of Scotland's 282 Munros, including Buachaille Etive Mor and Schiehallion.
It claims Rannoch Moor – celebrated in books such as Robert Louis Stevenson's Kidnapped and films including The 39 Steps and Trainspotting – is one of the largest remaining wild areas in Scotland and a defining landscape for the country's identity abroad.
Outlander author Diana Gabaldon has also criticised plans for the scheme near Loch Rannoch, where scenes for the new TV serialisation of her work were filmed, saying it would be "a tragedy" and "a disaster".
Netherlands-based developer Eventus BV wants to erect 24 turbines up to 410ft tall between Loch Rannoch and Loch Ericht. There have been about 1,000 objections to the scheme.
Scottish Natural Heritage (SNH) has highlighted the "significant adverse effect" the windfarm would have on the special landscape characteristics of both areas.
The turbines would also be visible from tourist routes the West Highland railway line and the A82 Fort William-Glasgow road.
The trust pointed out that the proposal was in one of SNH's newly-identified Wild Land Areas and said it flew in the face of 2014 Scottish Government planning guidelines which recently committed to value and protect Scotland's wildest landscapes.
Head of policy, Helen McDade, said: "This proposal could be damaging to Scotland's international image.
"This development threatens to turn one of Scotland's most famed landscapes of open moor and mountain grandeur into a semi-industrial landscape.
"I'm all for sensitively-sited low carbon energy, but you really couldn't dream up a worse place to put a massive windfarm in Scotland.
"With Scotland's reputation for stunning landscapes at stake, I hope and expect our MSPs to stand up for wild Rannoch."
Other objectors include the Mountaineering Council of Scotland (MCofS), Keep Rannoch Wild, the Cairngorms National Park Authority and the Scottish Environment Protection Agency.
MCofS chief officer, David Gibson, said: "Such places are at the heart of Scotland's cultural identity and history, they are essential for our recreation, wellbeing and enjoyment.
"And in economic terms they are absolutely vital for our film and tourism industries."
And an SNH spokesman said: "We have advised the developer over the last three years of the sensitivity of this location for a development of this type and scale.
"We support having the right development in the right place."
Mid Scotland and Fife Conservative MSP Murdo Fraser will lead a private members' debate on the issue at Holyrood this afternoon.
Last night, he said: "SNP government ministers must use Talladh-a-Bheithe to send out a clear message to developers that wild land is not for windfarms. Renewable energy has a place, but certainly not in areas such as this.
"In June, I cautioned that despite the government's new planning guidelines, wind developments could still be possible on wild land.
"Ministers have already conceded that 'wild land is a nationally important asset' and failing to protect Rannoch Moor could endanger wild land across the rest of Scotland."
An Eventus BV spokesman said: "We are currently in the process of analysing all consultee feedback and will respond through the appropriate channels in due course."