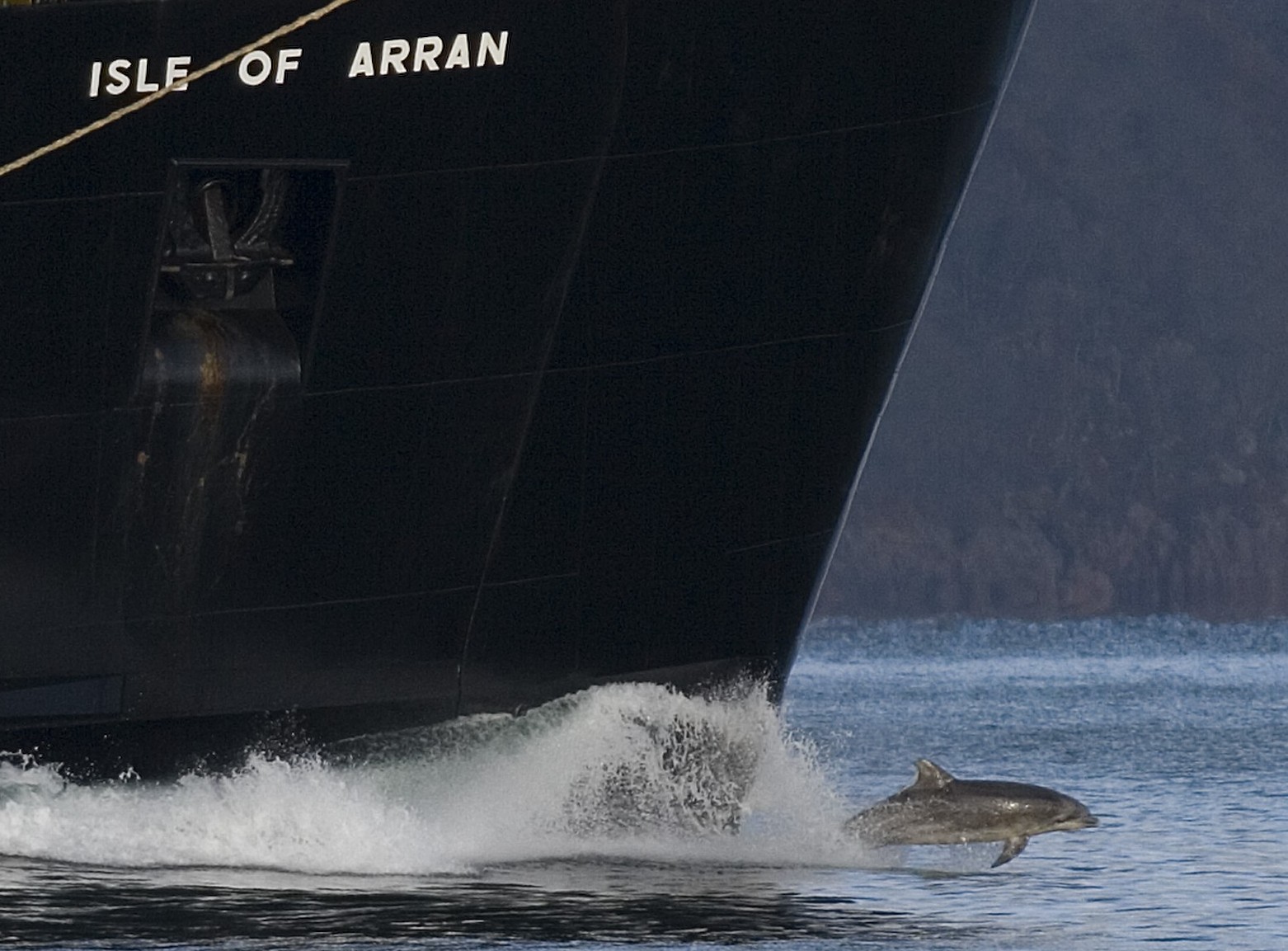 A celebrity dolphin that became famous for his antics in France and Ireland has been spotted swimming alongside a boat in the north.
The rare sighting of a lone bottlenose dolphin following a ferry between Oban and Mull earlier this week triggered some rapid detective work by researchers at the Hebridean Whale and Dolphin Trust.
And they discovered that it was Clet, paying what they believed to be his first visit to Scotland.
Bottlenose dolphins are not unusual in the Hebrides, even during winter – but the normally social species usually occurs in small groups, with individuals rarely seen alone.
By using photo identification techniques – studying the dolphin's distinctively scarred dorsal fin – the trust's experts identified the animal as a dolphin that made international headlines through its unusual behaviour when last seen in September – in Galway in Ireland, more than 370 miles away from the Sound of Mull.
Dr Conor Ryan, who is the conservation charity's sightings officer, said: "To our knowledge, this is the first time that Clet has been recorded in Scotland, and in fact this is the furthest north he has been recorded to date.
"Bottlenose dolphins are usually considered to be resident to certain areas, so long-distance international movements such as this challenge our understanding of this species, and also challenge our ability to protect them using Marine Protected Areas alone."
The male dolphin was named Clet by locals from Cap Sizun, Brittany in France, where he used to follow fishing boats between 2008 and 2010.
He then travelled to Cornwall, Devon and Wales before appearing in West Cork in Ireland, where he spent several weeks interacting with boats. The Irish Whale and Dolphin Group then recorded his movements along Ireland's west coast to Valentia, County Kerry.
The last recorded sighting of Clet was on 28 September 2014 at Inis Óirr off Galway Bay.
Although not confirmed, he was thought to be responsible for a dolphin attack on a group of swimmers in Salthill, Galway.
The RNLI ensured that the swimmers were able to get to shore without harm, but the incident resulted in some sensational news headlines.
Dr Ryan said solitary dolphins did not pose a threat to people in boats, but could be aggressive towards swimmers.
He added that the biggest danger to solitary dolphins was injury from boats, as the animals appeared to seek out vessels to interact with.
He said: "The deep gash on Clet's dorsal fin may be from coming too close to boat propellers."