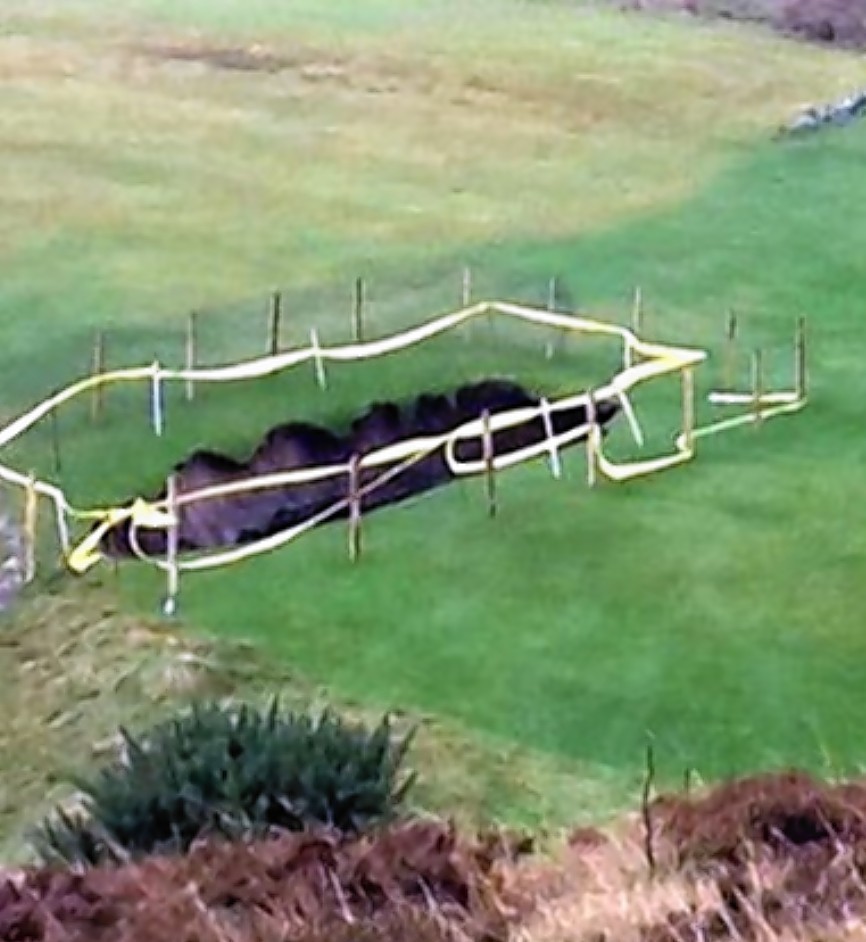 Bosses at a Scottish golf club were left stunned after a massive sinkhole appeared on their course near its seventh hole.
Drainage issues led to a 14ft hole being formed just in front of the green of the scenic nine hole course at Traigh Golf Course, in Arisaig, Inverness-shire.
But while the sinkhole at Traigh led to no personal injuries there are fears that it could lead to major problems for the club as it was caused by a drainpipe failing.
Bosses at the stunning links course are now trying to find £16,000 in funding to have the pipe fixed and the hole filled in.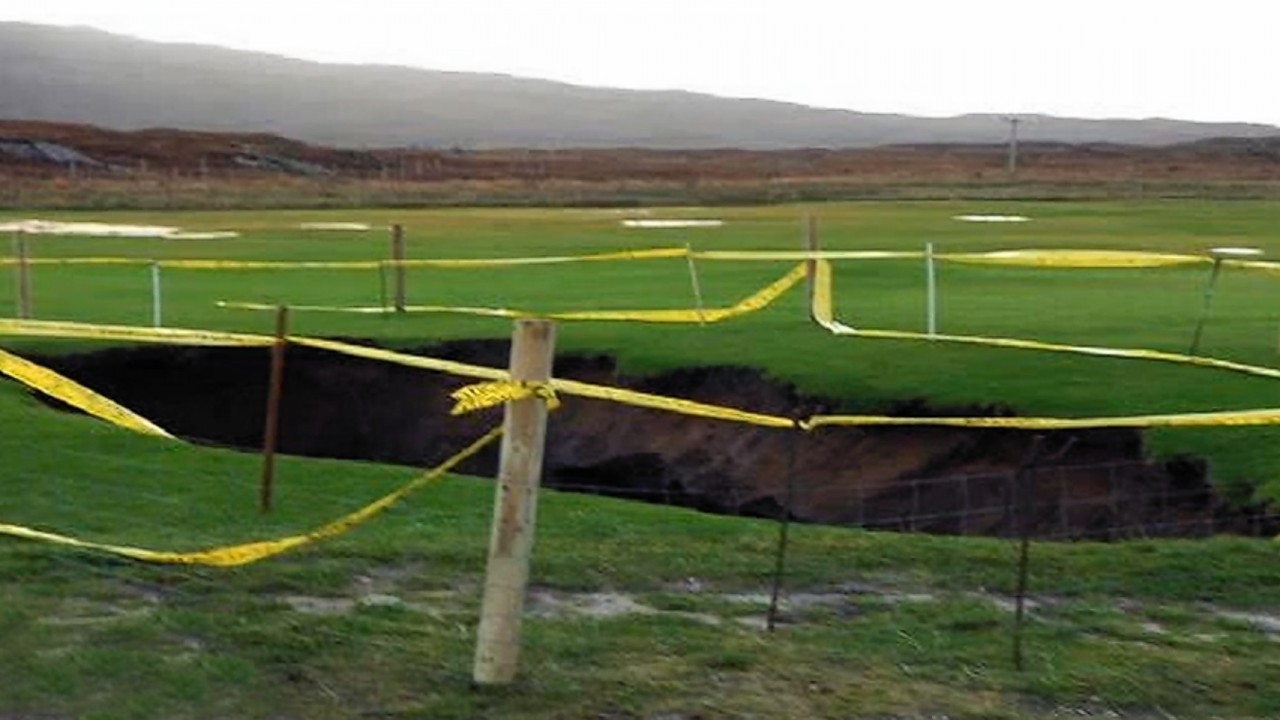 This would require thousands of pounds-worth of refurbishment but only some of the costs will be met by the club's insurer.
Fears have been raised that if the problem is not fixed then nearly half the par 68 course will become a bog and force the 80-member club to close its doors.
Course admin manager Bill Henderson, 70, said: "We had really bad weather and a lot of rain and the pipe just couldn't take it.
"The sinkhole appeared and it was pretty big, about four metres wide and around 14ft deep.
"We are hoping to get the repairs started but it won't be cheap and any help would be good.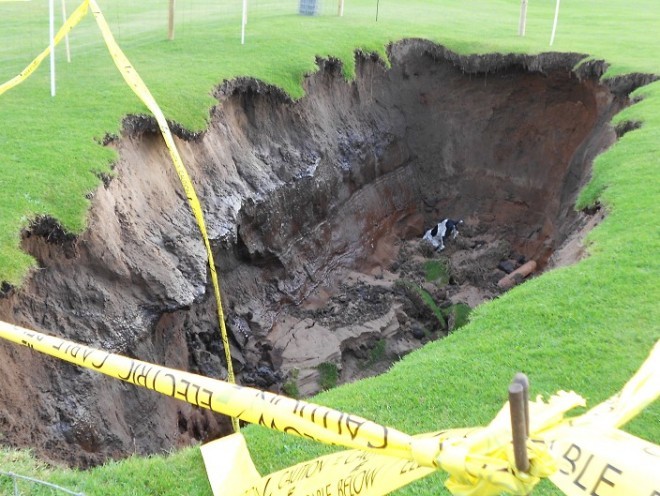 "Maybe Donald Trump would lend a hand, that would be good.
"It is a beautiful course but not much happens in the winter and we rely on passing trade in the summer as well as our own members."
Alec Stewart, a club spokesman, said the hole appeared in November but plans for repairs were still being put together.
He added: "We are passionate about the course and determined to keep it going.
"It is such an important facility for all our friends in the golf club and for the many tourists who play it in the summer, even though it will take a lot of visitor rounds to get the cost back," said one of the owners, David Shaw Stewart.
"But we find once people have played here they always want to come back, there can be very few golfing experiences anywhere in the world to compare with teeing off on the ninth towards Eigg on a golden summer day."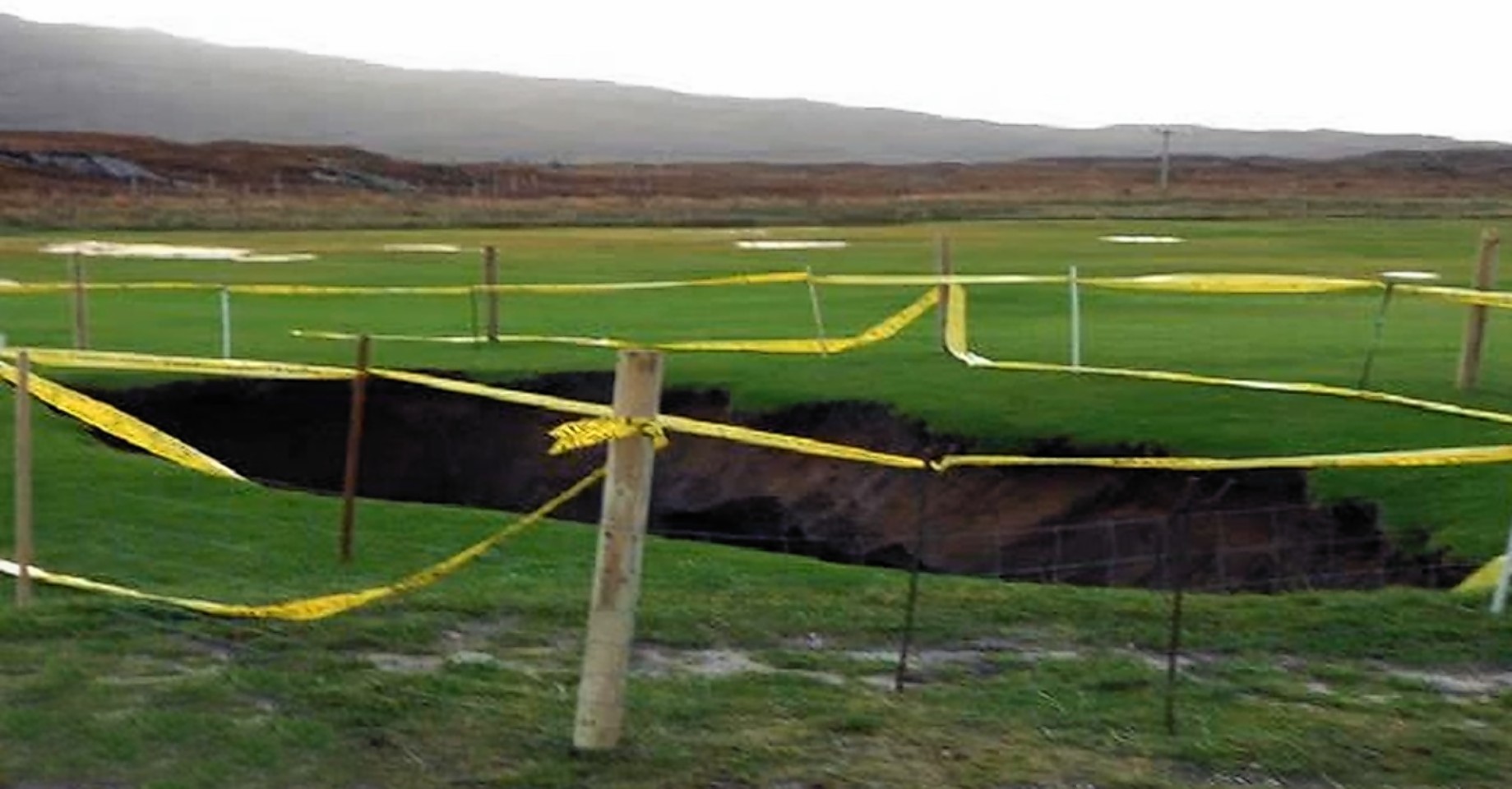 Golf fans took to Twitter and Facebook to offer support to the club that has existed for over 100 years.
Twitter user @GOLF–Empire said: "Traigh is a lovely course and it would be a real shame if it doesn't get the funding to repair it."
Sinkholes are depressions in the ground caused by a collapse in the surface layer, and can be sudden and devastating.
In March 2013,  an 18-foot deep sinkhole on a course in the US swallowed a golfer who was walking down the middle of a fairway.
He was later pulled out of the hole after a 20-minute rescue mission.