A Highland mountain rescue team spent the night on Ben Nevis in "atrocious conditions" attempting to rescue three climbers who became trapped on the UK's highest mountain.
Lochaber Mountain Rescue Team went to their assistance on foot after RAF Sea King helicopter Rescue 137 was unable to reach the group of two men and a woman due to low cloud.
The trio had been climbing on Castle Ridge when they became crag bound and called for help at around 8.15pm last night.
An RAF search and rescue spokesman said Rescue 137 was called out by the police and began searching the area just before 10pm.
He said: "The crew was able to see the three climbers, but not able to get to them because of icing conditions.
"Rescue 137 then went to the mountain rescue team's base and flew two separate waves – a total of 10 members – up to the Halfway Lochan before returning to base at RAF Lossiemouth."
And the rescue team members spent more than eight hours out on the hill in freezing conditions.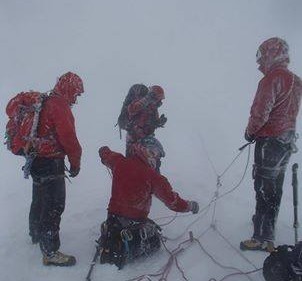 Douglas Paterson, who is the rescue team's deputy leader, said they attempted to reach the group from above, but were unable to make contact with the climbers due to "challenging" weather conditions.
He explained that it had been snowing hard, very windy and freezing cold.
He said: "Having descended over 200m (650ft) in atrocious conditions, we had to pull the plug for the safety of team members due to the risk of avalanche.
"The boys came back down. They got back at about 6.30am and we were going to reassess the situation at first light."
However, they did not need to go back out this morning as they discovered the climbers had made their own way to the top of the ridge by 8am and were walking off the hill.
Mr Paterson said: "Everyone was very cold and absolutely exhausted, but they were all fine."
A police spokeswoman said the group were members of a climbing club from outwith the Highlands.