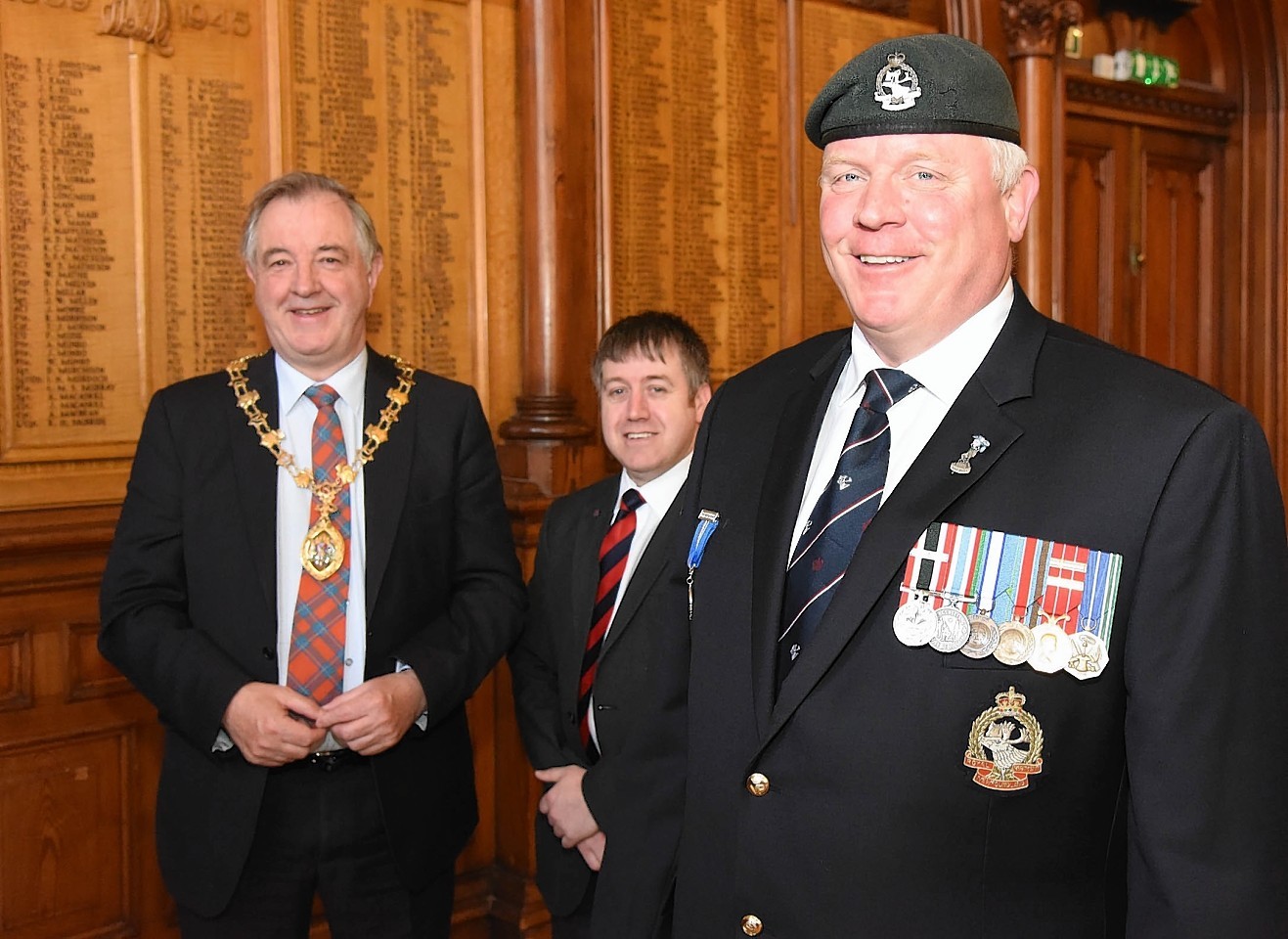 A retired Canadian soldier has visited Inverness on the trail of his countrymen who trained in the Highlands during World War I.
Retired Major Michael Pretty, of The Royal Newfoundland Regiment, is leading research to commemorate Newfoundland and Labrador men who fought in foreign wars.
Newfoundland soldiers trained and lived in the Highlands over a 10-week spell during the festive period of 1914.
They were based at Fort George and many were taken in and offered hospitality by families in Inverness, Nairn and Ardersier.
Major Pretty and his research group, The Trail of the Caribou, was welcomed to the Highlands in an event at Inverness Town House yesterday.
They will visit the grave of fallen Canadian soldier John Chaplin in Ardersier on Thursday at to lay a wreath and stone from his native Newfoundland in tribute to his service.
The men serving during the Great War moved south from the Highland to guard Edinburgh Castle, before being shipped out to Gallipoli in September 1915.
Major Pretty said that thousands of men from Newfoundland and Labrador had served during the war, with many paying the ultimate price.
He said: "There are 1,990 of our soldiers buried in 19 countries in almost 300 cemeteries or commemorated in memorials. We have spent 12 years on the Great War and have discovered almost all who were killed in action or missing in action, as well as tracking over 7,000 who returned.
"The war diaries and letters home comment on how friendly the local people were in the Highlands and how during their first Christmas away from home so many were invited into local homes."
He added: "The first casualty we suffered is buried in Ardersier Parrish Churchyard. Private John (Jack) Chaplin from St John's was only 18-years-old when he died on January 1, 1915.
"Our group have been so very impressed with the level of interest and support in our research. We will be laying a wreath on Jack's grave at 11.30am on May 20 in Ardersier. If anyone wants to join us then they will be welcome."
Provost of Inverness, Councillor Alex Graham, said: "I was deeply honoured to have been approached by Major Michael Pretty to help in the commemoration and celebration of these brave young men from Newfoundland who felt so welcome here in the Highlands.
"It is touching to be reminded that although these men were in the midst of such a large conflict, there was still time for bonds of friendship and comradery to be made. I offer that same friendship to Major Pretty and hope that he can return home with his own fond memories of Scotland."