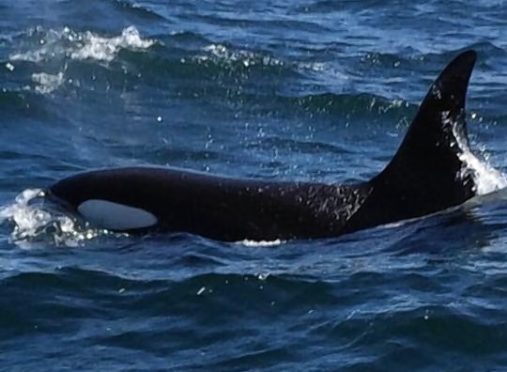 WARNING: Some readers may find this footage distressing
A pod of killer whales have been dramatically filmed hunting seals off the Outer Hebrides.
The startling feeding frenzy footage was captured by passengers and crew aboard award winning Harris-based Kilda Cruises as the pod of orca even played with their prey.
The company's boats Orca 111 and Hirta were packed with more than 20 passengers when the pod surfaced near St Kilda – 41 miles west of the Uists – on Wednesday.
The archipelago is a double world heritage site famed for its wildlife.
The A-Team have done it again, another video of Orca Whales feeding on seals today, around the North side of Stac Armin!! 🙂

Posted by Malcolm Campbell on Wednesday, 1 July 2015
"St Kilda never ceases to amaze. In our eleven seasons of running trips to St Kilda we have occasionally seen orca. This season has been exceptional with quite a few sightings," said Angus Campbell, who runs Kilda Cruises."Wednesday provided a rare spectacle – a pod of orca off Boreray hunting and feeding on seals. No Disney World show this, just nature in its pure state.
"We were able to observe at close quarters and although we are careful in our approach to these observations, these guys were keen to show us how clever they were. Incredible animals! We had a lot of delighted passengers."
Crewmen Malcolm Campbell and David Campbell also captured video footage of the spectacle.
The orca may be the only resident family of nine Scottish killer whales which are doomed to die out.
The small, isolated population of five males and four females have never produced offspring since studies began, raising fears that it faces imminent extinction.
Last year Hebridean Whale and Dolphin Trust scientists observed one of the group's males, known as John Coe, with a large area of his tail fluke missing. Consultations with experts suggest that this was almost certainly the result of a shark attack.
The individuals are well known to the HWDT thanks to years of research and collaborative work with Dr Andy Foote from the University of Aberdeen.
The nine orca have failed to produce a single surviving calf in over 20 years and Dr Foote, a world-renowned expert on the species, believes time has run out for them
The marine biologist has been studying the group with the HWDT and the Irish Whale and Dolphin Group since 1992.
However another group of orca that travel between Scotland and Iceland are known to have been in the area recently.