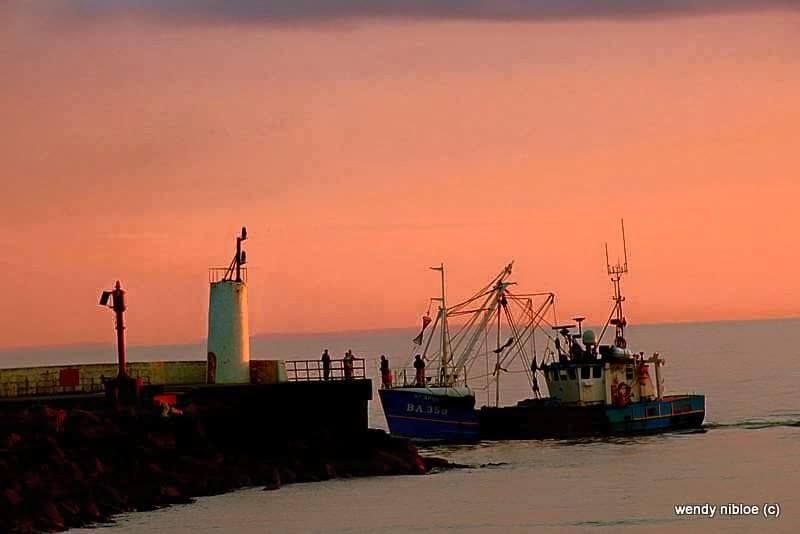 A lifeboat coxswain has praised five fishermen who escaped from their sinking boat without getting their feet wet.
Scallop dredger the St Apollo grounded on rocks after being caught in a severe squall in the early hours of this morning.
But the crew's "text book" emergency abandon ship went without a hitch leading to praise from John Hill, coxswain of Oban Lifeboat.
The drama unfolded near Inninmore Bay on the Lochaline side of the Sound of Mull.
The Girvan-registered vessel, skippered by Eric MacIlwraith, was caught in bad weather and high seas at 3.53am, causing it to run aground on rocks in the bay.
During the grounding, the 60ft vessel started to take on water and the crew requested immediate assistance from Stornoway Coastguard who asked for Oban Lifeboat to respond.
The lifeboat was called out along with Royal Navy rescue helicopter from HMS Gannet in Prestwick.
At 4.25am the lifeboat arrived on scene and found that the crew of the crew had taken the precaution of launching their life raft while they were awaiting rescue.
Mr Hill said: "I have got huge praise for the fishing boat crew. They were extremely well organised and prepared for an emergency situation. They were all ready to go, with life jackets on and had deployed their life raft before the vessel was sinking in case of that eventuality.
"When it did sink they were able to get in to their raft and they didn't even get their feet wet. It was text book stuff."
As soon as the lifeboat arrived, its inflatable XP boat was prepared to allow the lifeboat crew to get alongside the fishing vessel.
However, while this was happening the crew of the fishing vessel decided to abandon ship into their life raft. They were then taken onboard the lifeboat just in time to see their boat slip back into deeper water, capsize and become almost completely submerged.
The fishermen were checked for injuries and found to be no worse for their traumatic ordeal. They were taken back to Oban where they were put ashore at 6am and were understood to be heading home to Girvan.
A spokesman for Stornoway Coastguard said: "The fishing vessel St Apollo ran aground in Inninmore Bay in the Sound of Mull with five people aboard.
"Oban Lifeboat and the Coastguard helicopter were both tasked and two other fishing vessels, The Heritage and The Bonnie Lass were standing by to help, but weren't required.
"Weather conditions weren't too bad, with a force 2-3, but there was quite a big swell."