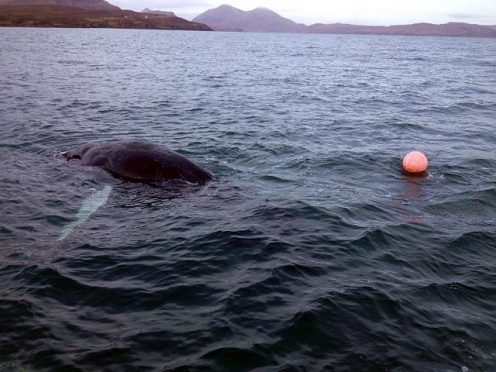 Two fishermen who rescued a humpback whale after it got tangled in ropes have been praised.
Retired creel fisherman John McKinnon was walking his dog when he spotted the whale in difficulty in Skye, and immediately alerted the British Divers Marine Life Rescue (BDMLR) team in Ullapool.
When they scrambled to the scene, Mr McKinnon and his nephew Gordon went out with a local creel boat to try and save the creature.
The pair managed to get hold of a rope wrapped around the whale's tail and cut it free.
And when Noel Hawkins, a volunteer from BDMLR, got there three hours later, he was delighted to discover the pair had already saved the day.
He said: "John and Gordon McKinnon from the Elgol creeler Sunny Jim saved the whale.
"John spotted the whale by chance when he was out walking his dog. They headed out in Gordon's boat and managed to pick up the buoy and haul it in then cut the ropes and they fell away and the whale was free.
"It swam away but then turned around and came back to the boat and sat looking at the men before heading off again."
The original report had been of a minke whale in trouble, but it later turned out to be a humpback, the same whale which was reported to be in difficulty just over two weeks ago.
Mr Hawkins said: "We got a call just over two weeks ago about a humpback whale trapped in ropes in south Skye at the Sound of Sleat. By the time we got there it was dark and we were not allowed to take the Marine Scotland boat out until the next day.
"We looked around the next day and couldn't see it anywhere. We assumed it was drowned in the bad weather as it had been trapped to the bottom. Everyone was really disappointed."
But he added that after looking at the McKinnon's pictures, he realised it had not been a minke they had rescued – but the same humpback.
"We are over the moon," Mr Hawkins said. "These guys are heroes as far as I am concerned.
"Humpbacks are not particularly common in this area but there have been more sightings of late. We are not sure why, we don't know if it is weather conditions or feeding conditions."