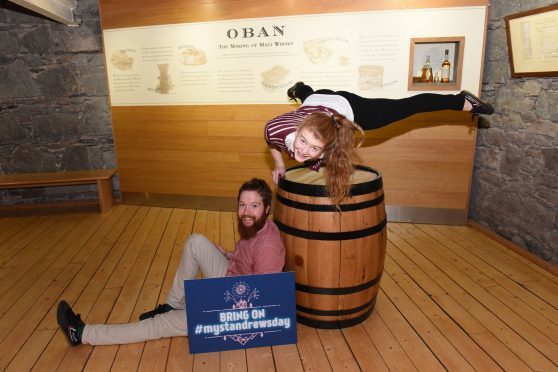 Circus performers put on a spectacular stunt at Oban Distillery yesterday as the town prepares to launch its winter festival.
Two performers from Circus Alba offered a glimpse of what to expect at this year's programme, which runs from Friday to November 29.
Culture Secretary Fiona Hyslop said: "St Andrew's Day is going to be bigger than ever before with a huge range of events taking place in the lead up to our national day. I'd encourage people across Argyll and the Isles and beyond to get together to celebrate and get involved in the programme.
"The celebrations are part of the Scottish Government's winter festivals programme which this year has been provided with a record £390,000 of funding to support 21 key cultural events in 15 local authority areas across the country."
Among the highlights during the Oban event include Christmas markets, whisky tasting, cookery demonstrations and numerous live music and comedy events.
Saturday November 21 sees the annual reindeer parade and switching on of the Christmas lights.
Special Scottish-themed events will take place to celebrate St Andrew's Day, with a Haggis Hurling competition, Tartan Dash and St Andrew's Day ceilidh all taking place on Saturday, November 28.
The festival comes to an end on Sunday, November 29, with a Haggis Festival, when local butchers will go head-to-head to win the Golden Haggis award, followed by a lantern parade, light show and fireworks display.
Louis Barrow, from Oban Winter Festival, said: "Our organising committee has been delighted to watch the Oban Winter Festival get better every year. People have been getting involved in many different ways – by simply coming under our program with their own events, such as comedy, music, dance, visual arts and exhibitions – or by simply attending one of the top quality food and drink events, tied to St Andrews Day.
"Most satisfying of all though, has been the success in realising some of our original intentions, to bring family members of all ages together to enjoy the local events or just the simple pleasures on offer to Oban's locals and visitors."