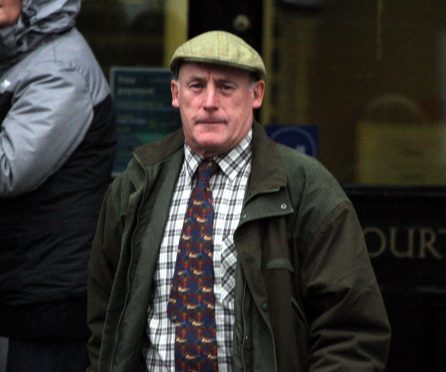 A Highland shooting magnate who runs one of the UK's top hunting and stalking agencies has become only the second person in Scotland to be convicted for the crimes of his gamekeeper.
Graham Christie, who owns Kingussie-based Dunmhor Shooting, was fined £3,200 after his keeper, James O'Reilly, admitted catching a buzzard in a cruel trap – a practice outlawed in Britain for more than 60 years.
The 56-year-old was charged under legislation that makes landowners and managers vicariously liable for crimes against wildlife.
Stirling Sheriff Court heard yesterday how O'Reilly, 50, felt he was under "pressure" from Christie to target birds of prey on the 5000-acre Cardross Estate near Port of Menteith, Stirlingshire.
Kate Fleming, prosecuting, said the distressed buzzard was found by a man walking his dog on March 25, 2013.
It was caught by its leg in a gin trap set near a pheasant pen and baited by a dead roe deer. It had to be put down five days later.
Police visited the scene and found a small, factory-made gin trap not sold in the UK.
Christie had employed O'Reilly as head game-keeper with responsibility for pest control on Cardross Estate, which was leased for business use.
Ms Fleming said: "He was told there was a lot of rearing of pheasants involved, and he would need to keep on top of vermin.
"He understood Mr Christie considered birds of prey to fall into this category.
"He advised of his perception that in the industry generally gamekeepers were under horrible pressure to protect their jobs.
"He understood the only motivating factory behind the shoot operated by Mr Christie to be commercial success."
Ms Fleming added: "The Crown case is that the accused (Christie) did not take all reasonable steps to exercise all due diligence in the running of the shoot."
David McKie, defending Christie, described the law as "a very political piece of legislation brought in to target the poisoning of raptors".
He said Christie was actually in Cuba when the buzzard was trapped.
He added: "This is like the situation in the licensed trade where a person sells a bottle of Buckfast to a 15 year old and the licence-holder bears responsibility."
O'Reilly, of Stronachlacher, in the Trossachs, was sentenced to 240 hours unpaid work earlier this year.
Cardross Estate owner Sir Archie Orr Ewing said the site "does not have any involvement whatsoever" in the sporting management of the land.