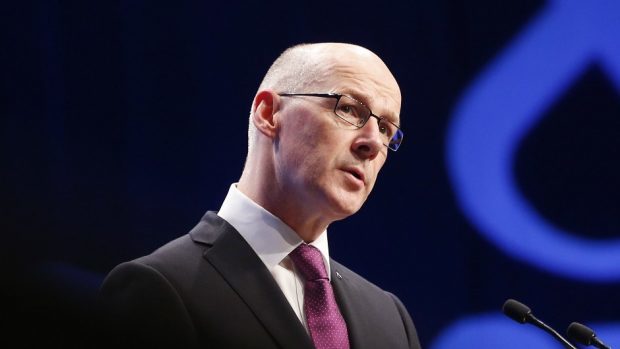 Argyll and Bute Council could have its funding slashed by the Scottish Government after it failed to meet strict teacher recruitment targets.
Despite losing just 31 members of staff since last year, the local authority could face a crippling financial penalty from Edinburgh.
John Swinney announced a £51million fund to help council's maintain their teacher numbers earlier this year – but promised to take the money back if they lost any members of staff.
If the funding pot was to be divided evenly between all 32 Scottish local authorities, Argyll and Bute stands to lose around £1.6 million.
The policy – which the Scottish Government insist is to ensure schools have "the right number of teachers" – has been criticised as "arbitrary" and "ill thought out".
Argyll and Bute's education chief, Councillor Rory Corville, said he hoped the government would take the "national shortage of teaching staff … into consideration" when contemplating any funding penalty.
Mr Swinney is expected to announce any fine in his budget statement next week.
Mr Colville said: "Teacher numbers in schools across Argyll and Bute are in accordance with the government's national staffing formula.
"All of our schools are staffed to that level and no primary class in Argyll and Bute is unstaffed as a result of the current, efficient staffing model. There will always be natural turnover.
"The council has gone to exceptional efforts to recruit to these supernumerary posts in order to meet the government's commitment.
"Given the national shortage in teaching staff and the competition of attainment funding which was given to seven large urban authorities, we would hope that the government takes this into consideration."
COSLA, the umbrella body that represents Scotland's 32 local authorities, has strongly criticised the policy.
A spokesman for the group said: "The simple truth is that no council has failed on education. That could only happen if children had been let down in some way and there is absolutely no suggestion of that having happened in any council area.
"What has failed, as it has in other areas of public service, is a crazy, simplistic ill thought through policy.
"Whatever way you dress it up not hitting an arbitrary figure on a random day cannot be the way forward for education in Scotland. We have to be better than that.
"It is becoming increasingly embarrassing that we continue to focus so hard on delivering a target which is so educationally irrelevant."
A Scottish Government spokesman said: "No decisions on the funding provided to maintain teacher numbers will be taken before the budget statement next week."