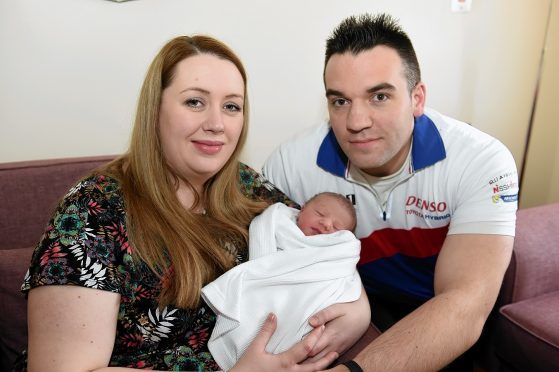 A couple from Skye were expecting a Christmas baby – and ended up with a New Year's son instead.
Baby Ryo MacDonald was born just after 4.30am today at Raigmore Hospital in Inverness weighing in at 8lb 9oz.
He had kept proud mum and dad Rowena and Finlay MacDonald waiting for a full week as he had due to arrive on Christmas Day.
But instead his parents had to make a stressful dash to the Highland capital from their home at Tarskavaig on the remote west coast of the Sleat peninsula on Skye after Ryo began to arrive early last night.
Ryo's arrival will also be an extra Christmas present for his two-year-old big sister Tyra who was waiting at home on Skye.
Mrs MacDonald said: "I honestly didn't think it was going to happen.
"We had been hoping that it would be early and before Christmas and we could have it all altogether with a new baby but that didn't happen.
"It's just felt like we've been waiting and waiting this week but he's here now and we're delighted."
Ryo's unusual name is inspired by his dad's love of Japanese culture and in particular the country's performance cars.
His big sister name derives from the Tarskavaig area's Nordic connections.
Proud dad Mr MacDonald added: "It's been quite a night after driving through from Skye.
"It was a bit of a rush to get here."