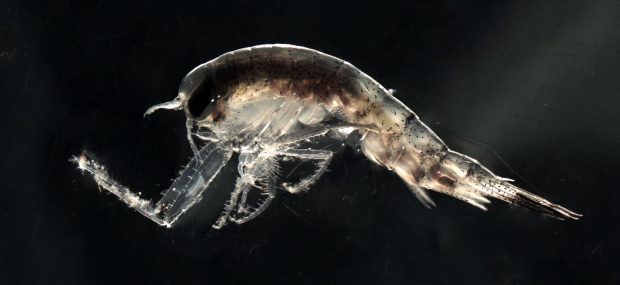 Winter time in the Arctic sounds like a time of year for curling up and hibernating.
But North scientists have discovered a previously-unknown phenomenon where creatures who gather in their billions to make use of moonlight during underwater migration in the darkness.
The Oban-based Scottish Association for Marine Science (SAMS) have dubbed the small creatures "werewolves of the ocean" because of their reliance on the moon.
They have been studying tiny zooplankton using echo sounders fixed to the seabed.
They have found that with the full moon the zooplankton dive deeper into the ocean, possibly in order to avoid light-sensitive hunters.
This response has been found at all water depths across the entire Arctic Ocean, including under ice and open water.
Lead author on the Current Biology paper Dr Kim Last, SAMS principal investigator in marine chronobiology, said: "It was previously presumed that there was little activity during the Arctic winter, as there is hardly any food and no light, but our recent work with partners from the University of Tromso showed there is a surprisingly high level of activity.
"Now we know that when the moon rises, the zooplankton drop down in the water column to around 50 metres in depth, presumably to hide from predators."
The mass migration has even been detected by the team at the North Pole, in water more than 13,000ft deep and underneath thick ice.
The research suggests that reducing sea-ice cover, resulting from climate change, may cause further changes in these migrations as more light penetrates the sea.
This newly-discovered response to moonlight during the Arctic winter has been described by the researchers as lunar vertical migration (LVM) and only occurs for a few days each month as the full moon rises above the horizon.
The team also discovered that zooplankton follow the rising and setting of the moon. This phenomenon results in a new kind of daily lunar migration, the cycle of which is longer (every 24.8 hours) than the standard day / night solar light response in the sunlit waters of the rest of the world.
Dr Last added: "Diel vertical migration of zooplankton is one of the biggest daily migrations on the planet, a process driven by sunlight. It's therefore a complete surprise to us to find that wherever we look across the Arctic during the winter, we witness a migration driven by moonlight.
"Perhaps the 'werewolf' isn't a myth after all?"