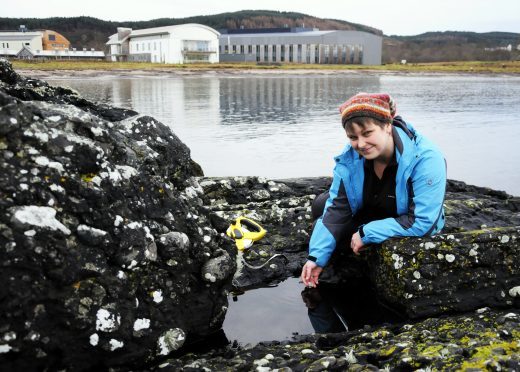 There were a fair few material casualties of this winter's storms, in the form of homes, offices and cars.
But marine experts in Oban are appealing for an army of "citizen scientists" to help measure the potentially disastrous effects of the severe weather on the nation's coastal creatures.
Heavier rainfall and rough seas, key indicators of climate change, may have gravely affected some of Scotland's best known animals and plants on the rocky coast.
Now scientists at the Oban-based Scottish Association for Marine Science (Sams) want to train volunteers in monitoring and sampling coastal areas as part of Capturing Our Coast (CoCoast), the world's largest ever coastal citizen marine science project.
CoCoast aims to train more than 3,000 citizen scientists from across the UK to help collect data around key species such as mussels, wading birds and hermit crabs.
The results will help inform future policy in conservation and marine protection and potentially give a better overall picture into how our climate is changing.
The £1.7million project is funded by the Heritage Lottery Fund and led by Newcastle University.
Professor Michael Burrows, ecologist at Sams, said: "Over the past few winters we have seen increasingly severe and frequent storms that are likely to be associated with rapid climate change. Alongside warming temperatures and ocean acidification, documenting how these changes are affecting our coastal habitats will be key evidence for influencing policy in the near future.
"Vulnerable rocky shoreline species can't escape the weather, and the storms we have seen the last two winters are likely to become more frequent, with greater damaging effects.
"As scientists, we can't be everywhere but people can tell us what's going on in their own back yard and we can collectively gather the evidence to fit into the wider picture."
Those interested in getting involved can register at www.capturingourcoast.co.uk to attend training courses.
Scientists are particularly keen to know how climate change is affecting coastal species that are not often recorded, particularly in remote parts of the country. Increasing ocean temperatures and more acidic seas could affect economically-important species like mussels and oysters, which would have a knock-on effect for iconic Scottish coastal birds, such as Eider ducks, that feed on them.
Dr Hannah Grist, the Sams-based CoCoast project officer for Scotland, said: "The beauty of this project is that people with no, or little, scientific background can work alongside academics to provide extremely important data for environmentalists and governments, and ultimately play a part in how their local coastline is managed and protected."