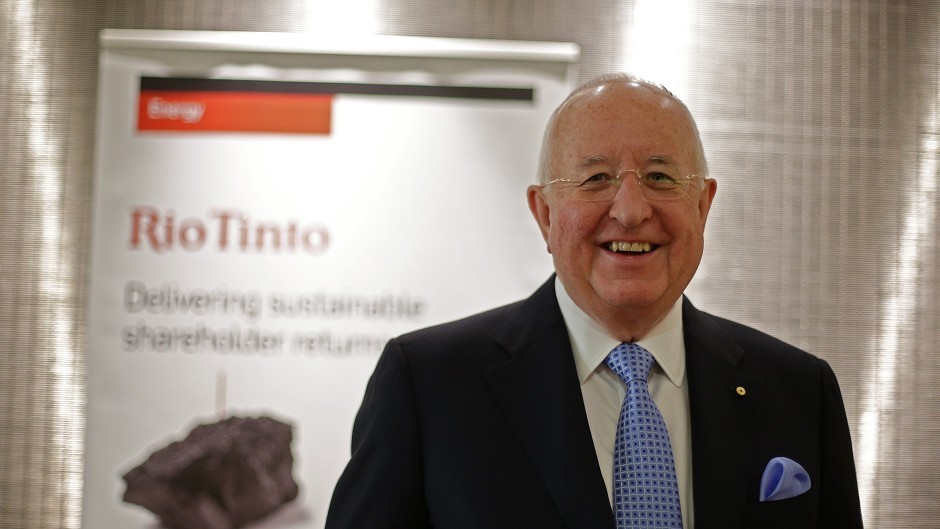 Calum Ross and Iain Ramage
Hundreds of jobs are under threat in the Highlands after it was announced a historic smelter could be shut down.
The bombshell was delivered to staff at Rio Tinto's Alcan aluminium plant and hydro-electric power stations in Fort William and Kinlochleven yesterday.
Staff at the smelter – which is the last of its kind in the UK and dates back to the 1920s – said they were "shocked" and "worried" last night.
And they joined local politicians in urging the Scottish Government to intervene.
Deputy First Minister John Swinney and Business and Energy Minister Fergus Ewing held talks with Rio Tinto bosses yesterday.
The plant employs about 170 people directly, as well as supporting about 400 workers in supply chains, and is estimated to contribute more than £8million a year to the Highland economy.
Rio Tinto bosses said they were launching a "strategic review" of the firm's Lochaber operations – and that "all options will be considered".
The jobs fears emerged just 24 hours after salmon farming firm Marine Harvest said it was axing up to 100 posts in the region, including at its plants in Fort William and Mallaig.
One worker at the smelter told the Press and Journal: "Obviously we're concerned about the possibility it might close.
"It's quite a worry for us. I think in the current market climate people weren't too surprised, but it's still a shock when you hear it."
The man added: "In any other country the politicians would step in and protect the jobs.
"For me the key to stop it happening is for the SNP government to step in. Multinational companies only listen to people with a bit of power."
Dave Thompson, the SNP MSP for Lochaber, also called for action from the Scottish Government last night.
He said: "It is very concerning that this news has come now. I feel for the employees who must now be very concerned for their jobs. Only yesterday Marine Harvest announced a restructuring and job cuts.
"So it is only appropriate that the Scottish Government get involved to do its best to ensure a good outcome from this review."
A Scottish Government spokesman said: "This will be an anxious time for Rio Tinto workers and their families who are affected by this news.
"The Scottish Government is fully committed to working with the industry during these challenging times."
In a memo to local authority leaders, bosses at the firm said: "Today we have advised our employees in the Lochaber business that in light of the current market prospects and economic environment, and as part of our ongoing review of our businesses, Rio Tinto is launching a strategic review of its assets in Lochaber.
"The review will include the aluminium smelter, the hydro-electric power stations located in Fort William and in Kinlochleven as well as estate lands located in the Scottish Highlands.
"I want to emphasise that all options will be considered.
"We recognise that this is a difficult time for our employees and we will keep our staff informed as we move forward."
Rio Tinto, the world's second-largest iron ore producer, has already said it would freeze pay for all staff this year.
In 2011, the firm invested £45million in its generators at Alcan, which produces 50,000 tonnes of aluminium a year.
A spokesman for Highlands and Islands Enterprise said: "Aluminium is a long established part of the Lochaber economy.
"We very much hope that the review will recognise Lochaber's achievements to date, and its significant potential to continue to play a key role in Rio Tinto's future."
Fort William councillor Brian Murphy said: "This is a business that's been there since the late 1920s. Its strength has always been that it generates its own electricity. That's always been the factor which has saved it in the past.
"We've seen plants like Invergordon and Lynemouth in the north-east of England come and go but Lochaber has managed to survive and it's basically because of its own hydro-electric power station."
He added that the fallout from job losses would have major repercussions for the wider area.
"There are all the contractors and suppliers, there's road and rail transport – and this is one of the last aluminium smelters in the UK," said Mr Murphy.
Lochaber Chamber of Commerce said in a statement: "While the loss of jobs from such a major employer would be a blow to the Lochaber economy, nothing has been decided as yet."