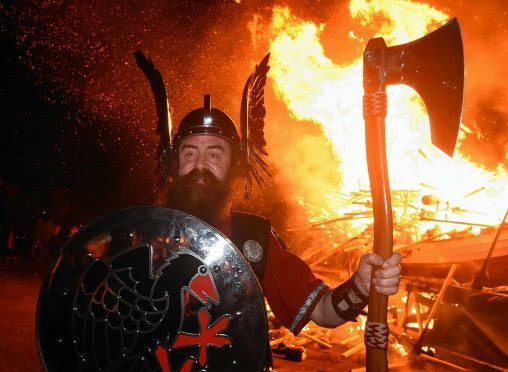 The Up-Helly-Aa party was still in full flow in Lerwick yesterday as the chief Vikings began to set their sights on conquering America.
More than 40 squads of men toured the Shetland capital's 11 party halls until 8am yesterday morning, with each putting on a different show for thousands of revellers who danced the night away.
Many of the near 1,000 men – who put on a spectacular torchlit procession and boat-burning ceremony earlier on Tuesday night – regrouped at breakfast yesterday and kept going throughout the day.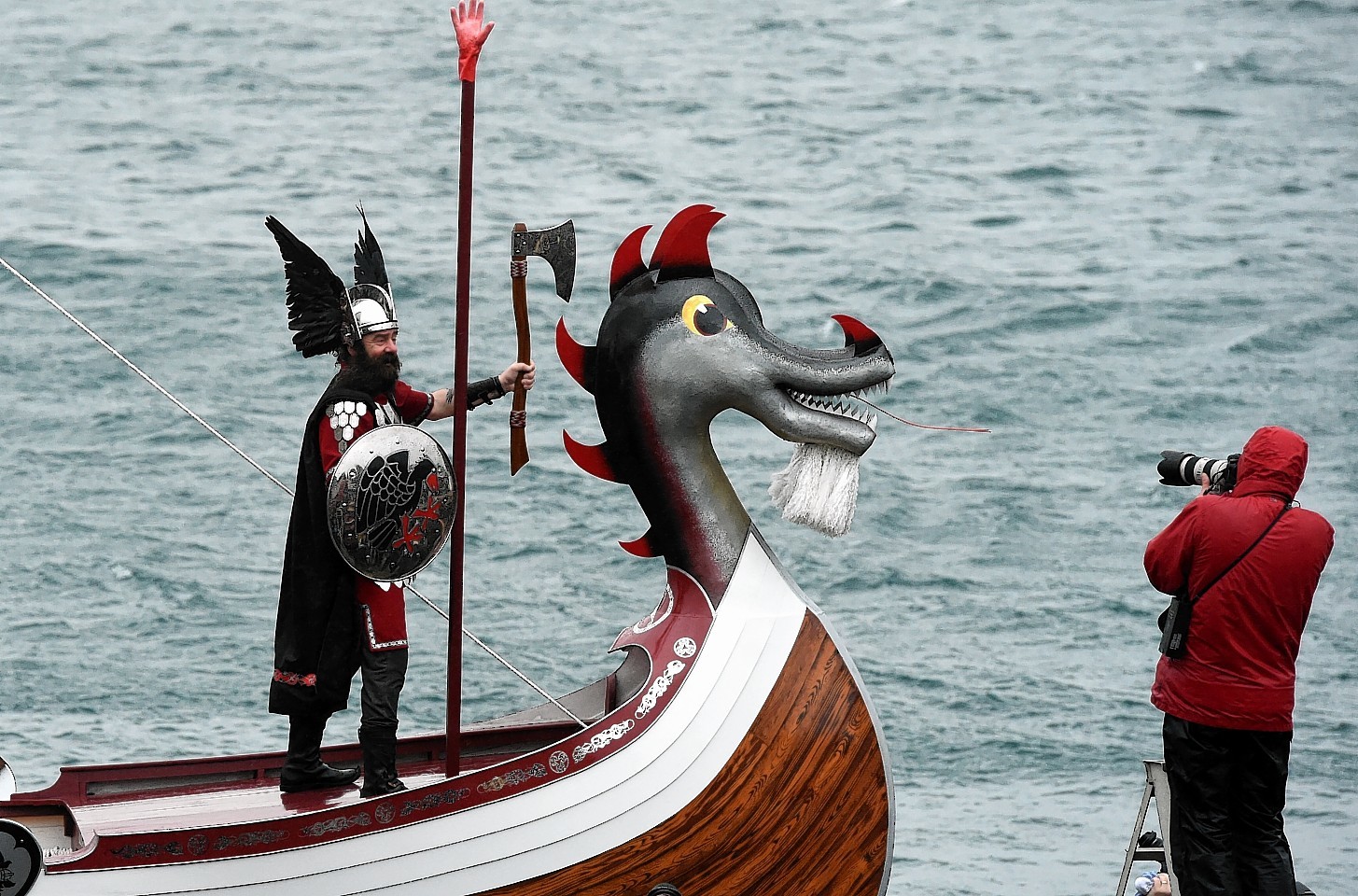 Guizer Jarl Mark Evans, the leader of this year's festivities, was presented with the name plate from the galley, having decided to call the longship after his 20-year-old daughter, Lauren Grace.
The duties of Mr Evans and his 79-strong Jarl squad do not end on Up Helly Aa day – they have a programme of events throughout the year.
Attentions are already turning to April, when 30 members of the group will travel to New York for five days to take part in the city's Tartan Day parade.
It will be only the second time a Jarl squad has attended the event, and they will also go to Maloy in Norway in June.
Stevie Grant led the first delegation to the US when he was Guizer Jarl in 2013.
"It was amazing. We closed the parade" he said. "It was generally similar to Up Helly Aa day – but without the rain."
Kevin Teale, squad leader in the 2016 Jarl squad, said: "The Jarl has to pick where to go. The New York link is in its infancy.
The more we can keep up going the more we can get sponsorship."
And Lyall Gair, the former galley foreman who will act as Guizer Jarl at next year's ceremony, is already beginning to prepare.
"We've now seen Mark's suit and we can start planning," the 36-year-old said. "We had ideas before, mock-up suits, prototypes made, but we can now finally get it into production," he said.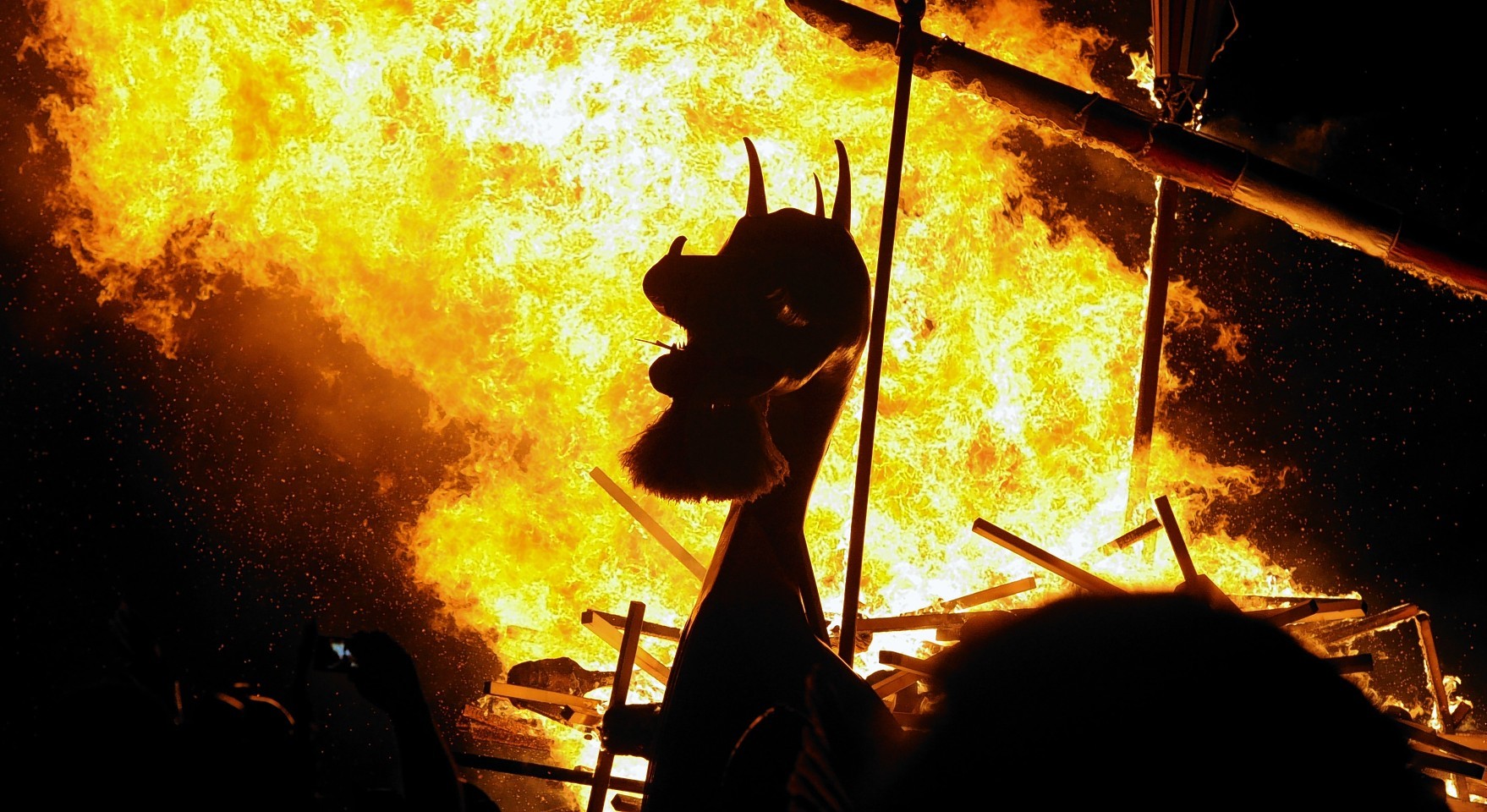 "We've got a meeting for this coming Saturday. I'll have a get-together with my design team to focus on it and start ordering stuff, so we can start producing.
"Being part of the committee is busy in itself, but much more so actually trying to organise 50-odd suits, and suits for the youngsters.
"I'd say in the last month I've been starting to get a bit more nervous, because you realise you're next. But I've got good support from the committee and the squad."