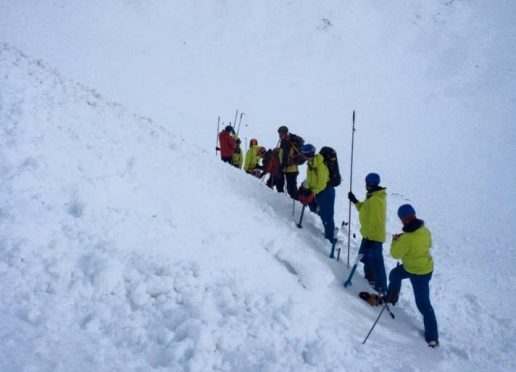 A man has died after he was caught up in an avalanche on a Highland mountain.
Rescue teams were diverted from a search for Valentine's Day climbers Rachel Slater and Tim Newton – who remain missing on Ben Nevis – after the major snow slide 19 miles away on 3,710ft Creag Meagaidh.
Two men were subsequently airlifted to the Belford Hospital in Fort William.
But police later confirmed one of the climbers had died, while another remained in a serious condition in hospital.
Members of the Lochaber Mountain Rescue team board a search and rescue helicopte
A casualty arrives by a search and rescue helicopter after an avalanche in the Creag Meagaidh area
Inspector Donald Campbell said last night: "Police Scotland would like to thank all rescue personnel involved in today's rescue for the rapid response and determination displayed in very challenging conditions.
"Sadly, one man succumbed to his injuries and his climbing companion remains in hospital."
Lochaber and Cairngorm mountain rescue teams were called to the scene, along with handlers from the Search and Rescue Dogs Association.
Creag Meagaidh stands above the northern flank of Glen Spean and is famous for its cliffs, which are popular with winter ice climbers.
It is understood that several climbers witnessed the avalanche and called the emergency services.
Members of the Lochaber Mountain Rescue Team (MRT) searched the avalanche area for signs any other climbers had been caught in it.
Meanwhile, members of other teams stood by at the mountain car park in case they were needed.
Willie Anderson, leader of Cairngorm MRT, said: "Lochaber have been on the hill at the avalanche tip trying to see if there's anyone else involved.
"We're just waiting to see if we're needed to go up and help."
Tim Newton and Rachel Slater
The search for Ms Slater, 24, and Mr Newton, 27, was suspended for much of yesterday because of snow conditions on Scotland highest peak.
The risk of avalanche was too high for rescue teams to search on the ground but Lochaber MRT members set off to carry out an aerial scan of the mountain from coastguard helicopter Rescue 951.
However, they were diverted soon afterwards to the avalanche without finding any sign of the missing couple.
Ms Slater and Mr Newton were last seen on Sunday. Their tent and Ms Slater's car have since been found by search teams.
Chris Denham is lead pastor at Hope City Church in Leeds where Mr Newton's brother Ed works as assistant pastor.
He said last night: "We are all very concerned for Tim and Rachel, especially as every hour passes, but we are confident and hopeful for their safe return.
"They are very experienced climbers and people have been known to survive for much longer before – so as a church we've been praying for miracles on the mountain, that God will keep them safe and bring them home soon.
"Meanwhile their families have our support in any way we can.
"We are also incredibly grateful for all the mountain rescue and the other services involved are doing to bring Tim and Rachel home."
The couple both live in the Bradford area and both studied at Manchester University.
They were camping in a green tent near the Charles Inglis Clark memorial hut on the north side of Ben Nevis over the weekend and on Tuesday searches were carried out in various areas of the mountain.
However, the ground search had to be stood down in bad weather after members of Lochaber MRT were caught up in an avalanche.
Ms Slater is a graduate of Manchester University and works as an environmental consultant near Bradford.
Mr Newton, who is originally from Leicester, also lives in Bradford and studied physics at Manchester and Leeds universities.
He joined Hinckley Mountaineering Club in Leicestershire in 2010 before he moved away to university, with fellow climbers there calling him a natural.
Tim Newton and Rachel Slater on Ben Nevis, spring 2015.
The helicopter was searching Ben Nevis for missing climbers when it was called away
David Gair, club president, said Mr Newton had a wealth of experience garnered in the Himalayas, the Alps and in Scotland.
He added: "He's a quiet, unassuming and very likeable young man.
"He's a very competent mountaineer and if anybody is able to deal with this situation, he can."
Lochaber MRT leader John Stevenson said it was "very possible" that the couple had been caught up in an avalanche but said the team would continue searching.
He added: "The conditions all weekend were very good and in a poor winter when the conditions are good, the mountain just gets hammered by climbers and walkers.
"There were people all over it, yet nobody has definitely seen this pair.
"Obviously the longer we go on looking the more worried we become."