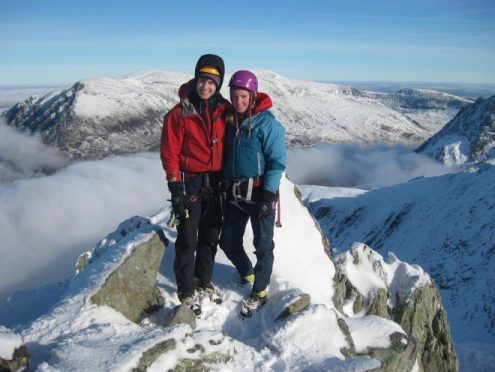 Searches in the Ben Nevis area for missing climbers Rachel Slater and Tim Newton remain suspended today (Thursday 18th February 2016) due to treacherous weather and underfoot conditions.
The families of Rachel and Tim have issued a statement and appeal in the hopes of finding the missing couple.
The statement read: "We are extremely grateful to members of the emergency services and search and rescue personnel who are searching for Rachel and Tim.
"The overwhelming response from members of the public and the climbing community has greatly assisted the search effort and we appreciate all the support and words of encouragement.
"As a family we urge anyone who was in the Ben Nevis area last weekend and may have seen or spoken to Rachel and Tim at any time to get in touch. We think Rachel was climbing in a turquoise jacket and purple helmet. Tim may have been wearing a red jacket, similar to the photo in circulation.
"We'd also like to appeal to anyone planning to climb or hike in the area this weekend to be aware of the ongoing search activity and to report anything they feel may be relevant – even if it appears insignificant – to Police on 101."
"As the search continues we remain hopeful Rachel and Tim will be found and reunited with their families and friends."
Search and Rescue Helicopter 951 assisted with searches for a short period yesterday before being diverted to another search and rescue incident.
Conditions remain unsuitable for the deployment of search and rescue personnel on the hill but remain under constant review.
Anyone with information that may assist the search is urged to contact Police via 101.