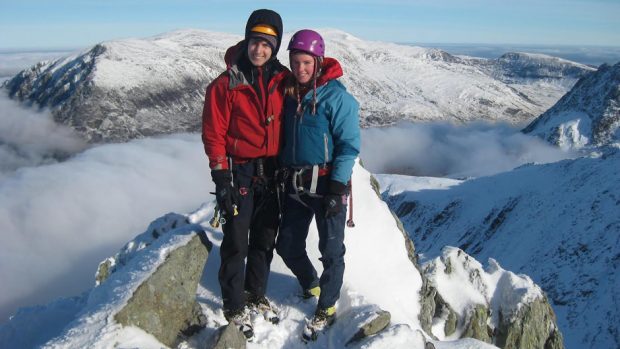 The families of a climbing couple missing on Ben Nevis have issued an emotional appeal for help to find their loved ones.
Rachel Slater, 24, and 27-year-old Tim Newton were last seen on Valentine's Day after travelling north from their Yorkshire home to scale Scotland's highest peak.
The search for the couple was interrupted by an avalanche on nearby Creag Meagaidh which left one man dead and another seriously injured.
As the Ben Nevis couple remained unaccounted for, the family of Ms Slater, who are from a mountaineering background, travelled from Canada to be as close to the last place their daughter was seen as possible.
Last night, they issued a joint statement with Mr Newton's relatives expressing their thanks for the "overwhelming" support of the climbing community.
They said: "We are extremely grateful to members of the emergency services and search and rescue personnel who are searching for Rachel and Tim.
"The overwhelming response from members of the public and the climbing community has greatly assisted the search effort and we appreciate all the support and words of encouragement.
"As a family we urge anyone who was in the Ben Nevis area last weekend and may have seen or spoken to Rachel and Tim at any time to get in touch.
"We think Rachel was climbing in a turquoise jacket and purple helmet. Tim may have been wearing a red jacket, similar to one in the photo in circulation.
"We'd also like to appeal to anyone planning to climb or hike in the area this weekend to be aware of the ongoing search activity and to report anything they feel may be relevant – even if it appears insignificant.
"As the search continues we remain hopeful Rachel and Tim will be found and reunited with their families and friends."
Ground searches on the mountain for the couple, who both live in Bradford, were carried out earlier in the week but were stood down on Tuesday after members of Lochaber MRT were caught in an avalanche.
They remained suspended yesterday.
Team members made use of Inverness-based helicopter Rescue 951 to conduct a wide-ranging sweep of the mountain for signs of the missing pair.
Team member Jonathan Hart confirmed after the search that "nothing significant" had been found.
He said: "The challenge is the conditions in the area which has prevented us from getting out on the ground.
"We are grabbing any window we can to get out and try to narrow down our area of search."
Inspector Donald Campbell, who is co-ordinating the search for police in Fort William, said there was "continual assessment" of the conditions on the hill but that the avalanche conditions remained "significant".
He said: "We are working with the team and with people who were on the hill who made possible sightings of Rachel and Tim and trying to narrow-down the parameters of search.
"We're following up every possible sighting and where these have been made that's where we've focused the search and that was the direction we were going in on Monday and Tuesday.
"Obviously since then it has been very difficult to get team members on to the hill. They can get out but the team feel they can't get to the areas that they need to be getting into."
He added: "Rachel's family have arrived from Canada and we have spoken with them several times in the last day or so.
"They are very supportive of the effort that has gone in from Lochaber Mountain Rescue Team and the other personnel involved.
"They are from a climbing background and fully appreciate the effort and they are not underestimating the task that is in hand."
A previous search using the helicopter was carried out on Wednesday afternoon but the team and Rescue 951 were diverted 19 miles to the east to the avalanche on Creag Meagaidh.
The man caught up in an avalanche near Spean Bridge on Wednesday afternoon remains in Belford Hospital in Fort William in a "serious but stable" condition.
His climbing partner, who is in his 50s and is from England, was killed.
Insp Campbell added: "We received a call from members of the climbing fraternity who were out in the area who had heard cries for help.
"The helicopter from HM Coastguard was in the area dealing with search activity for Rachel and Tim and they were diverted straight to Creag Meagaigh with rescue team members.
"There were two climbers involved and both casualties involved and both were airlifted to the Belford Hospital after being found.
"Unfortunately one of them has since died."