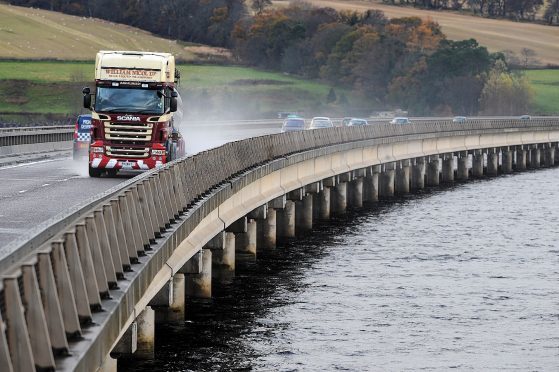 Cromarty Bridge is to be closed to traffic as part of a huge repair job to its foundations.
Bear Scotland has announced the bridge will shut for six hours between March 16 and 17 to allow the £1.4million project to continue.
The bridge carries the A9 Inverness to Thurso road across the tidal Cromarty Firth.
The company is repairing scoured foundations with rock armour.
When the east side is finished, the barge which is doing the work will pass under the bridge.
To allow this to take place, a 50-tonne crane will be used to remove its legs and reinsert them on the left side.
The legs are 59ft high and the clearance under the bridge is 8.2ft at high tide.
A spokeswoman for Bear Scotland said: "Cromarty Bridge will close overnight on March 16 from 10pm until 4am on March 17.
"The closure is part of the ongoing refurbishment of the bridge to ensure that it continues to operate safely for many years to come.
"The works will allow a barge to pass under the bridge as part of the ongoing scour works.
"These have been planned overnight to minimise disruption and a diversion through Dingwall will be in place during the closure."
The diversion will be from Tore Roundabout to Ardullie Roundabout via the A862 through Dingwall.
A second temporary road closure will be required next month to allow the barge to return to Invergordon.
The protection works are being carried out on the crossing's six piers, involving the installation of rock armour around the foundations.
The latest phase of work on the bridge got underway on February 20 and is expected to take four months to complete, with a break between the middle of April and May.
On the bridge deck, work to replace the parapets is ongoing with the first 980ft of the new structures installed on the west side.
The installation of new parapets on the west side is expected to be completed in May with the east side due to begin in the summer.