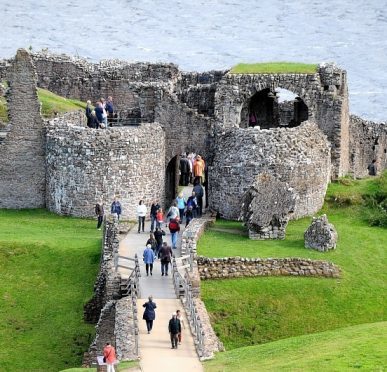 One of the north's most famous landmarks has attracted a record breaking number of visitors.
Nearly 350,000 people visited Urquhart Castle on the shores of Loch Ness in 2015.
The Association of Leading Visitor Attractions (Alva) compiled the figures, saying there had been a 5.5% increase in footfall at the attraction.
In total 348,691 people passed through the doors at Urquhart Castle, which is owned owned by Historic Scotland.
The landmark, which sits on the shores of the loch just to the south of Drumnadrochit, was one of a number of Scottish attractions which reported an increase including Edinburgh and Stirling castles, which
Euan Fraser, manager of Urquhart Castle, said: "It's great to hear that Scottish tourism had such a good year – it was certainly a busy one for us here at Urquhart Castle.
"Lots of visitors came to see us as part of our explorer pass scheme, and we had some great events including conservation tours and costumed performers.
"This increase in footfall goes to show that Scotland's history continues to capture people's imaginations, and we're hoping to share Urquhart Castle's stories with even more visitors in 2016."
Urquhart Castle was once one of Scotland's largest strongholds with its commanding position in the Great Glen overlooking Loch Ness.
It is currently in a ruined state but it had a bloody history during its 500 years as a medieval fortress
The magnificently situated Urquhart Castle, on the banks of Loch Ness, remains an impressive stronghold despite its ruinous state.
Urquhart was once one of Scotland's largest castles. Its remains include a tower house – the most recent building on the site – that commands splendid views of the famous loch and Great Glen.
Following the invasion of King Edward I of England in 1296, it fell into English hands and was then reclaimed and lost again.
In the 1300s it figured prominently in the Scots' struggle for independence and came under the control of Robert the Bruce after he became King of Scots in 1306.
In the 1400s and 1500s, the castle and glen were frequently raided from the west by the ambitious MacDonald Lords of the Isles.