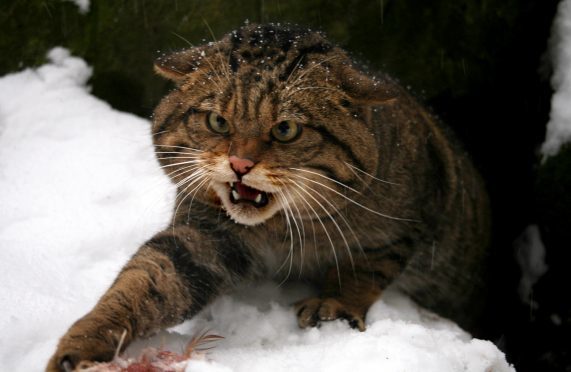 A project to save the Scottish wildcat – one of the most endangered animals on the planet – now covers more than 800 square miles of its west Highland stronghold.
And ambitious plans to further extend the scheme to create a 7,000 square mile haven for wildcats were announced yesterday.
Recent estimates place the number of these cats remaining in the wild as low as 35, making it 70 times rarer than the giant panda.
A team of ecologists, wildlife experts, vets, teachers and landowners set up an organisation, called Wildcat Haven, in an attempt to save the true Scottish wildcat from extinction.
Since 2008, they have worked closely with the local community to carry out intensive feral and domestic cat neutering in a move to humanely remove the primary threat to wildcats – cross-mating or hybridisation with domestic cats.
In 2014, the group established a 250 square mile Wildcat Haven on the Ardnamurchan peninsula that was free from feral cats and feline diseases.
Last year, the threat-free region of Lochaber was increased to 500 square miles.
After neutering 100 domestic cats over the past 12 months, it has now risen to 800 miles, covering Ardnamurchan, Sunart, Morvern and Moidart.
And the group is planning to expand the area as far as Fort William and open up further haven regions in the west Highlands.
Its chief scientist Dr Paul O'Donoghue said: "We have now developed a proven template for wildcat conservation that can be rolled out across the western Highlands.
"Eight hundred square miles can home around 100 true Scottish wildcats, but our aim is a 7,000 square mile threat-free area that could hold a sustainable population and save them from extinction.
"Wildcat Haven is living proof that the Scottish wildcat can and must be saved in the wild where they belong."
He added that the wildcat was a very capable survivor and preferred to breed with other wildcats. However, it is so outnumbered by domestic cats that hybridisation is inevitable.
He said: "This means that over a few generations, those wildcat genes are lost and you're just left with domestic and feral cats causing big problems for prey species and themselves."
It is now hoped that providing a large area, where the entire domestic cat population has been neutered, will allow the wildcats to begin rebuilding their population.