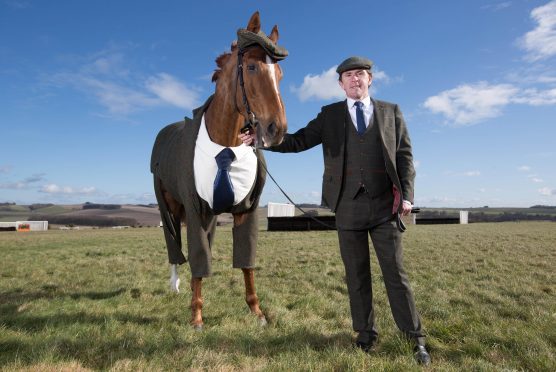 A fashion designer has given new meaning to the term clothes horse – by creating a three-piece suit fit for a stallion.
Champion jockey Sir Tony McCoy unveiled the world's first Harris Tweed suit designed specifically for a race horse and modelled by veteran racer Morestead whose look is topped off with a flat cap.
The horse outfit was specially commissioned by bookmaker William Hill, which tasked former Alexander McQueen apprentice Emma Sandham-King with creating a stylish suit to celebrate the start of the 2016 Cheltenham Festival.
Ms Sandham-King and her team of seamstresses and tailors spent four weeks creating the suit, using more than 18 metres of genuine tweed shipped from the Isle of Harris.
The custom-made suit has been created with 10 times as much fabric as an equivalent human suit.
William Hill enlisted statistics expert Dr Geoff Ellis who calculated that enough tweed is worn at the Cheltenham Festival to stretch all the way from the historic racecourse to Ireland.
Dr Ellis studied 32 large scale crowd photos from the festival to examine the amount of tweed on show, finding that on average 200 miles and seven furlongs (321.5 km) of tweed are worn every year by spectators – enough tweed to stretch one and a half times around every horse race track in Britain and Ireland, the bookmaker said.
Sir Tony, who has counted 31 Cheltenham Festival winners, as well as two Gold Cups and one famous Grand National success among his big-race haul, said: "I have many fond memories of racing at Cheltenham Festival amongst the sea of tweed-wearing racegoers looking on.
"I'll be watching from the side-lines for the first time this year and rather than strapping on my jockey silks, I'll be joining the punters and hopefully tipping up a few winners to bash the bookies."
Ms Sandham-King said: "Creating the world's first tweed suit for a horse has been one of the biggest challenges that I have faced in my career as a designer.
"We have used 18 metres of genuine Harris Tweed to create the head-turning fashion garment. Some models can be real divas, but veteran racing horse Morestead was calm and a pleasure to work with.
"Tweed is undergoing a massive revival and this year's Cheltenham Festival will see the most tweed worn since the 1960s."