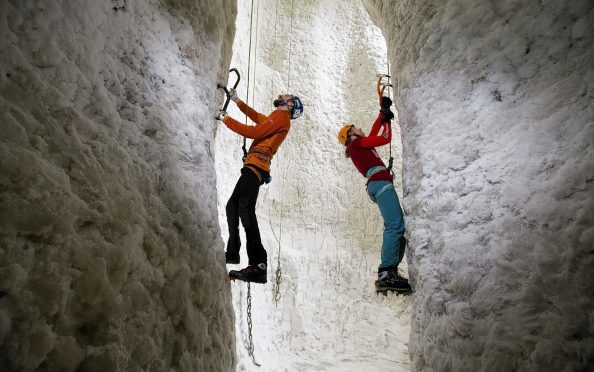 The world's largest indoor ice climbing centre in the Highlands reopens for business today almost eight months after it was ravaged by fire.
More than 200 people were evacuated from Ice Factor Kinlochleven, south of Fort William, when the accidental fire broke out in the sauna area of the 120-year-old building on July 29 last year.
The £3.4 million climbing centre, which is one of Scotland's top adventure tourism attractions, has remained closed ever since.
The restoration work and loss of business has cost the company more than £950,000.
But the newly reopened centre now boasts many improvements.
The climbing fraternity are delighted with the revamped facilities, which include more than 400 tonnes and 530 square yards of ice-wall – designed to replicate winter climbing conditions on the likes of Ben Nevis.
And Scottish tourism minister Fergus Ewing MSP described the reopening of Ice Factor as "terrific news".
Owner Jamie Smith said: "For over a decade, Ice Factor Kinlochleven has made a positive contribution to Scotland's adventure tourism economy.
"It has taken eight months and, after a huge team effort, I'm really proud to be able to reopen an even bigger and better Ice Factor Kinlochleven."
He pointed out that the centre incorporated 16,750 square yards of ice and rock climbing space and said they had taken the opportunity to treble the size of the bouldering area in the indoor rock climbing section.
There are now 135 rock climbing routes and 65 routes on the 45 foot ice walls.
Mr Smith said: "I'd like to thank our many customers for their patience. We now look forward to welcoming them back for loads of vertical fun."
Designated as the National Centre for Ice Climbing, it is also used for training by Scottish mountain rescue teams (MRT) and the GB ice climbing team.
Glencoe MRT leader Andy Nelson said members used the ice walls to replicate classic outdoor winter mountaineering conditions.
He said: "We've really missed Ice Factor as it provides a social event as well as the ability to train, stay strong and practice our rope work.
"While it was out of action, the lads have been going out on the hill regardless of the time of year, time of day and the weather.
"Having it back will mean we can pick and choose which days we go outside, rather than going out all the time."
GB ice climbing team manager Steve Johnstone said: "It's a fantastic set-up for the climbing community, helping to develop individual skills and giving our GB athletes a great location to push themselves to an even higher standard for both home and international competitions."