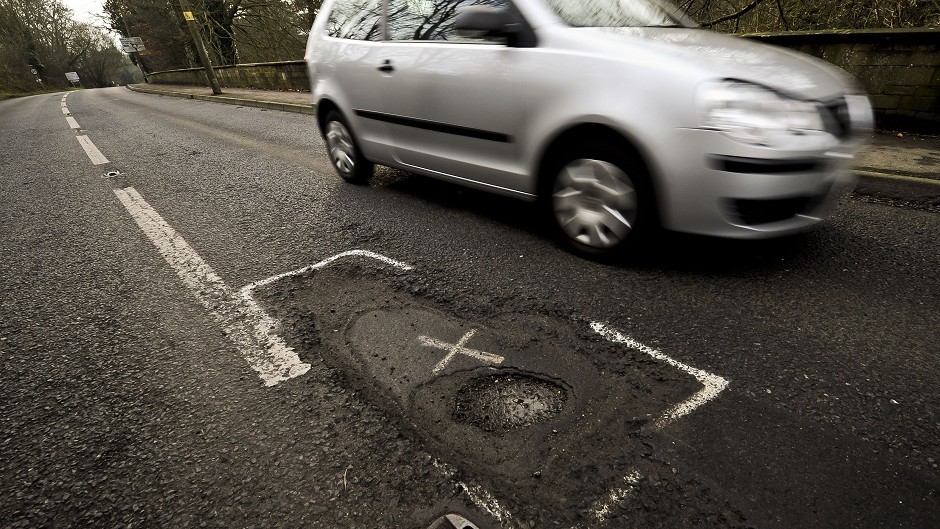 Transport chiefs at Holyrood are under pressure to help fund major repairs to the crumbling roads in the Highlands.
North MSP David Stewart, Labour's transport spokesman, said he had been inundated with complaints from constituents about the number of potholes in the region's roads.
He highlighted figures which showed that in the last five years Highland Council has paid out just over £100,000 in compensation to motorists because of damage caused to their vehicles.
Mr Stewart has now written to Transport Minister Derek Mackay to ask what is being done to tackle the problem.
"We need to address the issue of potholes and surface damage on our roads," he said.
"The Scottish Government needs to work alongside local authorities to alleviate the budget strain placed on them.
"Local authorities are having to make significant cuts across the board.
"The UK Government have allocated £250million to address potholes. £3million of that comes to Scotland, so why don't the Scottish Government devolve this down to local authorities to best spend as they think on dealing with potholes?"
Last year, Highland Council moved to divert more than £24million of funding earmarked for play parks, public toilets and flood prevention schemes to fund a major resurfacing programme on roads across the region.
But Mr Stewart said that the budget-cutting local authority needed further support from Holyrood.
A Scottish Government spokeswoman said: "In 2015-16, more than £220million has been allocated for the maintenance of motorways and trunk roads, that's 20% more than five years ago.
"We do all we can to make sure that the network is as well maintained as possible and trunk roads are inspected at regular intervals to identify defects like potholes, which are then repaired by our operating companies within the timescales set out in their contracts.
"The maintenance of local roads, including pothole repairs, is a matter for Scottish local authorities and they allocate resources on the basis of local needs and priorities.
"In 2015-16 the Scottish Government is providing local authorities with total funding of over £10.85billion, including £496million for Highlands Council."