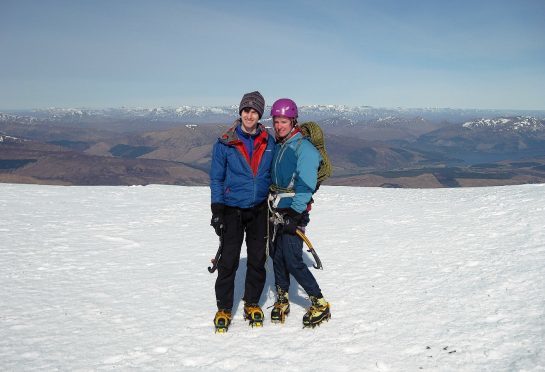 A mountain rescue team is still trying to trace the owner of an ice axe found on Ben Nevis that could belong to a couple who went missing during a climbing trip over Valentine's weekend.
Experienced climbers Rachel Slater, 24, and Tim Newton, 27, were reported missing on February 15 after they failed to return from Lochaber.
A huge search was launched for the couple, but was eventually called off after rescuers triggered a series of avalanches.
Their tent was found near the CIC hut on the Ben and Ms Slater's car was found in the North Face Car Park.
Lochaber Mountain Rescue Team Leader John Stevenson has revealed a woman found an axe in the snow below The Shroud and Boomers Requiem climbs.
They want to find the owner so that they can dismiss it from future searches.
Mr Stevenson said: "It was in the right place. The only thing we do know is that it is similar to the one the boy was using but it is a very common ice axe.
"We also know at that time there were two Swiss climbers who were avalanched in that area. They got hit by an avalanche and I believe they lost some gear, it may be one of theirs.
"We are trying to trace who it belongs to. It is the only thing that has been found in that area. If anyone knows anything about it, please get in touch."
Anyone who has lost an ice axe in The Shroud and Boomers Requiem area or knows someone who left an axe there is asked to contact police on 101.