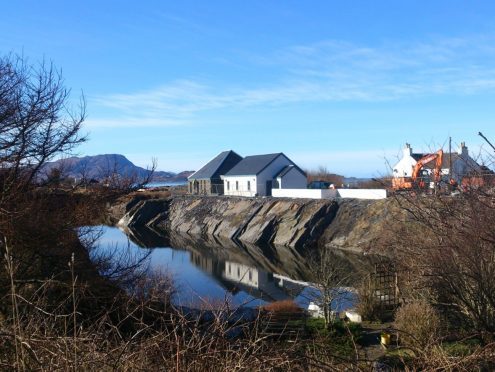 A new community facility and visitor centre on one of Scotland's slate islands in Argyll has been recognised with a prestigious award.
The Atlantic Islands Centre on Luing, designed by Shauna Cameron architect, has won the Scottish Civic Trust My Place Awards 2016.
The £1.3million centre was created to spearhead sustainable development on the island. It opened in the summer of 2015 and has quickly become established as a focal point for community life.
It has been described as a "sustainable and inspiring example of community-led regeneration on a small island". Islanders say it has greatly improved the quality of life on Luing and made it a more attractive place to live, work and visit.
The awards were presented at The Lighthouse in Glasgow.
Judges said in their comments: "The centre is a model of community engagement, benefit and cohesion.
"The beautiful island of Luing and its strong community have got behind this transformative project which has provided jobs, increased tourism and given the island a focal point for meeting, talking and sharing.
"It is an example of civic society in action, on a small scale but with imagination, passion and, above all, determination in the face of many challenges. The Atlantic Islands Centre is a worthy winner of the My Place Awards 2016."
John Pelan, director of the Scottish Civic Trust, said: "This is the seventh year of the My Place Awards. It has grown from being a modest celebration of place-making, heritage and people to become a remarkable record of achievement and a celebration of Scotland's heritage and places, old and new.
"This year, we received a record number of entries in both categories – 28 projects as well as 14 individuals put forwards as civic champions. Nominations were made by local civic trusts, community councils, heritage organisations and other voluntary groups."
Ian Gilzean, Scottish Government Chief Architect, said: "The My Place Awards demonstrate the way in which well-considered buildings, places and activities can make an immense difference to life within communities.
"These projects provide far more than physical facilities, they are conduits for social interaction and they help to build the kind of connections that strengthen communities. They show the importance of approaches to place which consider people first."