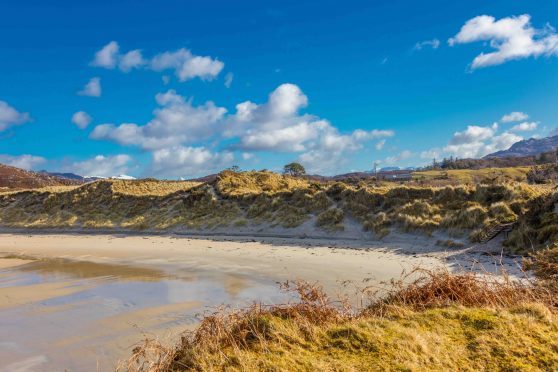 The chance to snap up a house which sits above one of Scotland's most iconic beaches – made famous by the film "Local Hero" – is up for grabs.
The Larch House sits atop the breathtaking beach which has been used as the backdrop to some of Scotland's most memorable moments of TV and cinema.
Camusdarach Beach, near Morar in Inverness-shire starred in the 1983 movie "Local Hero" alongside Hollywood icon Burt Lancaster and Dr Who actor, Peter Capaldi.
Its steep dunes also enjoyed walk-on parts in "Outlander" and popular TV shows like "Monarch of the Glen" and "Hamish Macbeth".
Now the house with a front row view of its endless white sands is up for sale. Prospective purchasers have been warned that because of the area's big-screen pedigree, The Larch House comes complete with unexpected guests.
Owner Angela Simpson, 69, said: "People come every day looking for the beach.
"We must have had people from every country in the world at our door.
"For such a quiet, gentle, film "Local Hero" has an enormous following right across the world.
"We know it's been in other films and TV programmes. The phone company Orange even did an advert on it.
"Of course, we're happy to point visitors in the right direction. It's just through a gate in front of our house."
Selling agents Savills are using the building's brush with fame in its marketing campaign for the four-bed property sitting in 15 acres. It states: "The Larch House has an enviable position in one of the most scenic parts of the Atlantic seaboard of the West Highlands.
"It overlooks the Camusdarach beaches, made famous by the film 'Local Hero' as well as the TV series 'Hamish Macbeth' and 'Monarch of the Glen'."
In "Local Hero", the beach was "owned" by hermit Ben Knox, who held out against oilman Felix Happer, played by Lancaster in his attempts to build an oil refinery on it.
While Hermit Ben offered to sell the beach at the rate of £1 for every grain of sand he could hold in his hand, Savills is inviting offers over £399,000 for The Larch House.