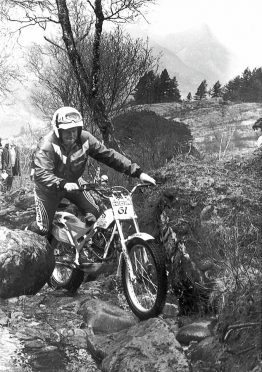 Tributes were yesterday pouring in for the world's first motorcycle trials champion, who has died just weeks before this year's Scottish Six Days Trial (SSDT).
Martin Lampkin, who died at the weekend at the age of 65, was a regular at the SSDT event in Fort William, Glencoe and the wider Lochaber area, and became the first World Trials Champion in 1975.
He was also the first trials rider to complete a clean day at the SSDT, managing to balance his bike through an entire day of trials sections without the need to ever put a foot down to steady himself.
Mr Lampkin came from a famous Yorkshire motorcycle trials family, following in the footsteps of his older brothers, Arthur and Alan, and the family tradition is being continued by his son, Dougie, who has won the SSDT nine times and 12 world trial titles.
Former Scottish Trials champion Gavin Johnston, 51, of Kiltarlity, said he had been in awe of Mr Lampkin's riding from a very early age.
He said: "I knew of Martin when I was a kid because he was the first world champion so he was one of those guys you looked up to.
"He was a big inspiration to me when I was a child and I used to watch him competing and winning at the SSDT in Fort William.
"As I got older, I was lucky enough to ride against him in the SSDT about 20 years ago and I used to see him at different events.
"He was one of those larger than life characters – very strong and influential. He will be sadly missed."
Former international trials rider Rob Edwards, who was a close friend of Mr Lampkin, said everyone knew he was capable of doing the impossible on a trials bike, but he was also a very popular man.
He said: "I would say that his personality was on a par with his riding ability.
"Another thing that made him unique has to be his sense of humour and all these things coupled up make the incredible person we know as Martin Lampkin."
Mr Edwards sent his sympathies to the Lampkin family and said he was sure the thoughts of millions were with them.
Mr Lampkin leaves his widow Isobel and sons Dougie and Harry.
His funeral will be held at St James Church, Kirkgate, Silsden, West Yorkshire on Monday April 11 at 1.30pm.
Thousands of people are expected converge on Lochaber for this year's SSDT, in which riders complete up to 100 miles each day over six consecutive days, starting on Monday May 2.