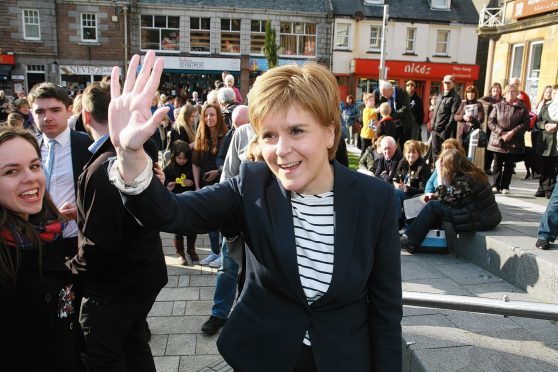 Scotland's First Minister has pledged to do everything she can to save the Rio Tinto smelter in Lochaber.
The plant employs 150 people and the company is carrying out "a strategic review" of all its assets in the area.
This has led to fears that the smelter may close and the jobs will be lost.
The loss of the smelter would also have a serious knock-on effect on many other businesses in the area and could result in the loss of further jobs.
During a visit to Fort William yesterday (Thursday), Nicola Sturgeon said: "We work hard in situations like this to do everything we can to avert the worst case scenario.
"And, if we can't do that, we will do everything we can to help the people affected."
Ms Sturgeon travelled up the A82 Glasgow to Fort William road yesterday to join Kate Forbes, who is the party's candidate for Skye, Lochaber and Badenoch, on the campaign trail as she spoke to local residents and visited local businesses.
And the First Minister gained first-hand experience of the problems faced by motorists on the busy trunk road when her car was diverted due to an accident at Tyndrum, making her 45 minutes late for her first engagement in Lochaber.
Ms Sturgeon said: "We came a different way because of an accident.
"We are well aware of the fact that the A82 needs improvements and will continue to work hard to make sure we are improving connections like that."
Around 100 people crowded into Cameron Square on Fort William High Street to see Ms Sturgeon, who was due to arrive at 4.15pm.
And most waited until she turned up almost an hour and a quarter later, just before 5.30pm.
Pupils from local schools were keen to meet Ms Sturgeon.
Many took selfies with her and Adele Macmillan, 11, of Kinlochleven, brought along a T-shirt that she got the First Minister to sign with a permanent marker pen.
Ms Forbes said she was delighted the First Minister had made time in her busy schedule to support her.
She said: "Nicola has come to show the west Highlands that they are important to Scotland and to support the SNP campaign here.
"She chose to drive up the A82 to get a taste of what the road is like."