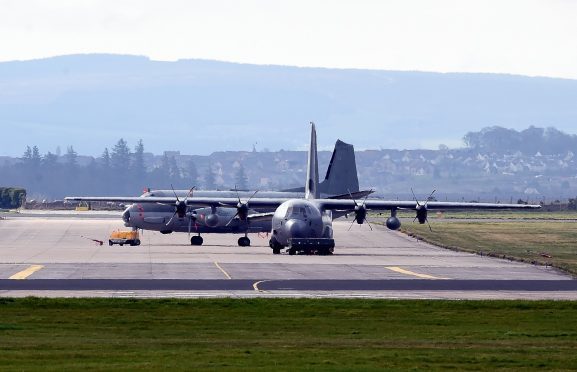 A full-scale emergency was declared at Stornoway Airport after a military plane suffered a bird strike.
Emergency and rescue services rushed to the airfield just after 2pm on Saturday when the pilot radioed in the alert.
Airport fire crews took up positions at the runway immediately. while reinforcements were summoned from Stornoway.
Ambulance, police and coastguard teams all attended and the Stornoway lifeboat covered the sea area off Holm just beyond the airport's runway.
Many international military planes have been staging mock air battles off the Western Isles and west coast of Scotland during the biennial Joint Warrior exercises.
Warplanes including Typhoons, Hawk T1s, and long range Poseidons are taking part in the Nato war games, which run until April 24.
The aircraft landed safely, a short time after the emergency was declared, without injury to its three crew.
A spokesperson for the Scottish Fire and Rescue Service said: "There was a full-scale emergency at Stornoway airport. The aircraft landed safely."
Stornoway RNLI added: "A military aircraft with three persons on board had suffered a bird strike. Fortunately, the aircraft was able to land safely seven minutes after the lifeboat launched."
Meanwhile, a military aircraft was diverted from the Joint Warrior exercises to help in the land-and-sea search for the missing skipper of the MFV Louisa, which sank off the Western Isles on April 9.
The crew of the naval helicopter heard how ordinary islanders were scouring the rocky shorelines of bays and inlets around the southern tip of the Outer Hebrides.
More than 3,400 Nato troops are involved in the two-week land, sea and air war games exercises.
A total of 22 ships, four submarines and more than 40 aircraft from a dozen Nato nations and three partner countries are taking part.
There has been increased activity at RAF Lossiemouth in Moray, the Cape Wrath and Benbecula firing ranges and Faslane naval base on the Clyde during the event.
About 1,500 personnel from the Royal Navy, British Army and Royal Air Force are participating, alongside those from across Europe and as far afield as New Zealand and the United States.