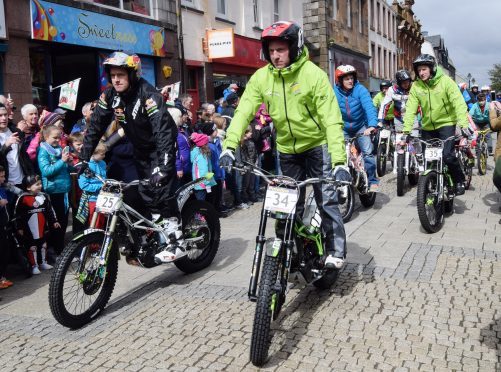 Thousands of people lined Fort William High Street yesterday afternoon to watch the cavalcade of motorbikes marking the start of the Scottish Six Days Trial (SSDT).
The parade led by the Lochaber Schools Pipe Band celebrated the major event, which kick-starts the tourist season in the region.
But it was tinged with sadness this year following the death of world-famous trials rider Martin Lampkin, who died at the age of 65, just weeks before this year's SSDT.
Mr Lampkin was a regular at the event and became the first world trials champion in 1975.
Jake Miller, who was his business partner and is a spokesman for the family, paid tribute to him during this year's opening ceremony.
He said Mr Lampkin, from Yorkshire, died "way too early" after his battle with cancer.
And he described him as "a massive character with a huge and warm character, who made his mark on so many people of all ages, literally the world over".
Mr Lampkin's sons, Dougie and Harry, took pole position in yesterday's parade.
Clerk of the course Jeff Horne said: "Dougie has won it nine times and will be hoping for a 10th win in a poignant year."
He added that the 279 competitors had travelled from all over the world, including Japan, New Zealand, Australia, Canada and many parts of Europe to take part in the prestigious event, which follows the Scottish Pre-'65 two-day trial, held around the Kinlochleven area on Friday and Saturday.
Both are organised by the Edinburgh and District Motor Club.
Mr Horne said: "The weather was fantastic for the parade and the turnout was the biggest I'd seen in the five years I've been clerk of the course.
"The High Street was packed with at least 2,500 people."
He said an Events Scotland survey four years ago showed the two events were contributing more than £1.6million to the local economy each year.
Fort William and Ardnamurchan councillor Brian Murphy said he was pleased the weather had stayed fine for the parade.
#
He said: "The event is a welcome boost to the shops, restaurants and accommodation providers.
"It sets the season off to a good start every year."
The first trial is due to start at Fort William's West End Car Park at 7.30am today, with the final trial taking place on Saturday.