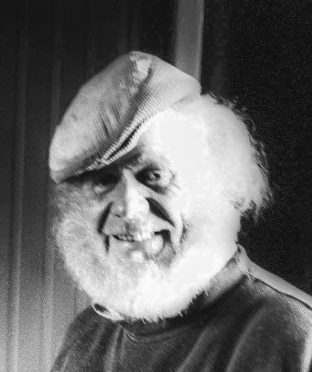 The late James McRory Smith lived alone for 32 years, miles from the nearest road, in a bothy in the wilds of Sutherland.
He was something of a legend among outdoor enthusiasts and became more widely known when he was featured on a TV programme earlier this year.
Author James Carron has recently published his biography, called The Highland Hermit.
And around 30 members of Mr Smith's family are planning a gathering in his memory next month, including a pilgrimage to his remote home at Strathchailleach, just south of Cape Wrath.
Some are travelling from as far afield as Australia and the US and they have booked out the Kinlochbervie Hotel for the event on June 10 and 11. Further family members are planning to camp in the area.
Mr Smith, who was known locally as Sandy due to the colour of his hair, died at Raigmore Hospital in Inverness in 1999, aged 75.
His nephew, Bobby Smith, 53, of Dumbarton, explained that his father Robert Smith was James McRory Smith's brother and the pair came from a family of eight boys and eight girls.
Bobby Smith said his uncle met his German wife, while fighting in the country during World War II.
He continued: "Uncle James's wife was killed in a car crash in Germany not long after the war.
"He came back to Scotland and worked for the Forestry Commission, but he became a bit of a loner in the 1960s.
"So he set up home in the bothy and kept himself to himself."
He added that his uncle had been very artistic and confirmed that the nature-related murals he painted inside the bothy were still there.
As he explained: "He was very into nature and lived off the land, catching fish and rabbits.
"I only ever saw Uncle James twice when he came to Dumbarton.
"He used to flit in and out. He didn't stay long because he didn't mix well with people.
He said that the last time the family went up to Sutherland was for his uncle's funeral.
Mr Smith stated: "Initially, it was just me and my youngest brother Brian who were going to go to Sutherland.
"Then we discovered our cousin David Gray was coming over from Australia and another cousin Sandra Black was coming from Texas."
He subsequently set up a group page on a social networking site for the event and was amazed at the response from the extended family.
He said: "We're calling it the James McRory Smith Reunion.
"We'll have a narrative at the graveside and those that are fit enough will walk out to the bothy, with a reception in the hotel afterwards.
"We're all really looking forward to it."
Bob Tateson, of Kinlochbervie, who now maintains Mr Smith's former home for the Mountain Bothies Association, will lead the 14-mile walk to the bothy and back.
He said: "Sandy was a well-known figure in Kinlochbervie and a bit of a character.
"Not everyone liked him. He drank too much when he had the chance.
"But, because of his intelligence, fortitude, survival skills and self-reliance, he has become a bit of a legend among outdoor enthusiasts."
Mr Ta