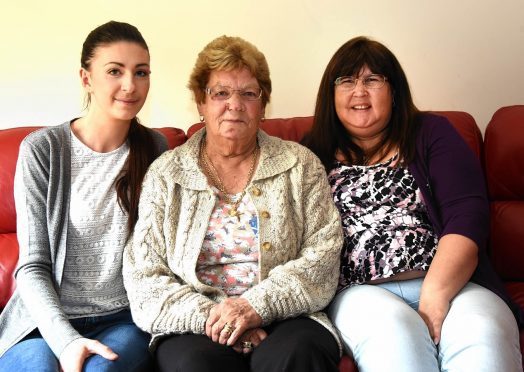 The family of an 80-year-old holiday-maker who fell and cut her face in Inverness city centre has thanked an "angel" who swooped in to help.
Jean Curran was walking with her daughter Linda near the Rose Street retail park in the Highland capital on Tuesday when she tripped on a kerb and hit the ground.
Several vehicles and pedestrians carried on without stopping to help, but Black Isle friends Shona Cameron and Danika Keogh slammed on the brakes and rushed to assist the pair.
A grateful Linda later took to social media to try to track down the Good Samaritans – and yesterday visited Shona at her home in Fortrose to thank her in person with flowers and chocolates.
Linda, who is from Denny and was holidaying in the area with her mother and partner, said: "There was a sort of kerb coming out and neither myself or my mum saw it, and the next thing I know she has tripped.
"I tried to grab her but she fell and cut the side of her face.
"About three or four cars passed. I was just bending down and the next thing I know Shona and Danika were helping get my mum up.
"They were fantastic. Shona moved the car so my mum could get into it and she went to the shop to get some baby wipes, and wouldn't take any money for it. She was like an angel that came down to save us.
"With all of the confusion yesterday, all I knew was that it was two young girls in a blue car. We never even asked her name, and I felt terrible about that.
"I just wanted to let her know how thankful we were."
Jean was taken to Raigmore Hospital for a check-up but was later given the all-clear.
Ms Cameron, 21, said her reaction was instinctive, as she works for a care agency in Inverness and is studying for an HNC in Care and Administrative Practice.
She said: "Just as I turned the corner Linda's mum fell. It was right next to my car. It took me a few seconds to process what had happened, but I put my brakes and hazards on and went over to see if she needed a hand.
"I do it as a job so my instincts just kicked in to go and help. People were just standing there staring and carrying on, you would expect them to help."