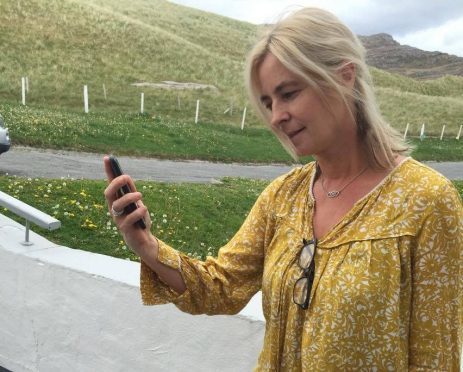 Mobile phone customers on the isle of Barra have voiced their frustration after having little or no signal for two months.
A public Facebook Page "I Live on Barra and My Orange/EE Signal is Down Yet Again!" has 320 members and is filled with complaints from angry islanders.
Some say the phone company have allowed them to get out of their contracts, while others say EE won't accept there is a problem.
Joan Irvin, owner of the Isle of Barra Beach Hotel, said: "It really started from mid March. Sometimes we might get a signal for a second or two then it will completely stop. Or we will get one briefly, and we will be talking and just get cut off."
She said it was a problem right across the island and added: "We need to get this sorted. When we call we are put through to a different member of the team every time and are told there is not a problem. Why is it taking so long to get sorted? Why are they not admitting there is a fault?
"We are the biggest hotel on the island and it is affecting us terribly. We can't get a hold of taxis for our guests, we can't phone the fishermen to get scallops, it is very frustrating."
Helen McClymont, who runs Barra Holidays Croft 138, a campsite and hostel on the north east of the island, said: "First of all for weeks we had no signal at all. Then it came back on, but after about 20 seconds the call cuts off, people think you are hanging up on them.
"It is just a nightmare. People like to phone ahead when they are coming through from Oban to make sure they can get in the campsite. If they can't get through they go to another site on the other side of the island.
"Last year we had similar problems but not as bad as this. Someone needs to do something about it."
A spokeswoman for EE said: "We're aware that some customers are experiencing signal issues on the Isla of Barra. Our engineers are on site working as quickly as possible to resolve the issue, and we apologise to customers who are affected."