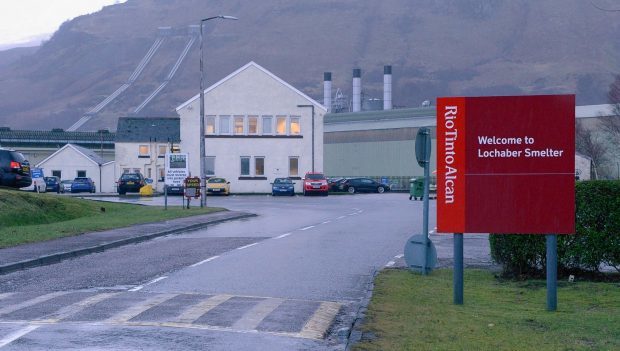 A group set up after it was announced mining giant Rio Tinto could close its Lochaber base will go to Wales next week on a fact-finding mission to a plant which has already shut.
Earlier this year, bosses announced they were looking at the historic smelter at Fort William as part of a "strategic review" of its operations.
The said they were considering "all options" for the plant, which employs about 150 people directly, as well 400 workers in supply chains – sparking fears it could close.
This trip is the strongest hint yet that those concerns could be correct.
Rio Tinto last night denied that either the group or the visit to Anglesey had any connection with the strategic review threatening the future of the smelter.
However, the group was set up within days of the strategic review announcement in January.
The joint working group includes representatives of Rio Tinto, Highland Council, Highlands and Islands Enterprise and Lochaber Chamber of Commerce.
Some of its members are preparing to visit the north Wales site on Wednesday and Thursday of next week to see what life after closure of a Rio Tinto plant looks like.
Councillor Thomas MacLennan, who is leader of Highland Council's Lochaber committee and a member of the group, said: "I would say it is very much part of the strategic review.
"The company is having its own strategic review and they set up this group to see if there was anything we can do with the existing land holdings to release the potential of them."
Mr MacLennan pointed out that the number of people employed on the Welsh site had increased dramatically since the smelter closed.
He said: "We are going down to see what Rio Tinto did at Anglesey after they closed the aluminium smelter.
"We're going to see what's been done there and to see if any of it could be replicated in Fort William."
But he stressed that the visit did not mean Rio Tinto was planning to close the Lochaber smelter.
He said: "They have highlighted that they've got quite a lot of land holding in and around Fort William.
"This offers an opportunity for development for commercial use as it is adjacent to the A82 trunk road and the rail system, and there's even a siding into the smelter.
"What we are looking at is how they can maximise everything that's on the site, not just from an aluminium point of view, but from any other point of view."
Ross, Skye and Lochaber MP Ian Blackford said he would encourage the group to look at all the options for making sure the best value for the community in Lochaber could be obtained in terms of jobs and investment.
He said: "It's important that they look for all kinds of options for developing the site.
"Along with everybody else, I'm waiting patiently for Rio Tinto coming back with the results of their strategic assessment and I believe it is possible that the plant still has a future producing aluminium, whether that's under the ownership of Rio Tinto or under the ownership of somebody else."
A spokesman for Rio Tinto said the joint working group had been set up to look at how the company could better make use of some of its assets for the benefit of the community.
He said: "It's a thing we do around the world. It's business as usual."
He insisted that it was completely unrelated to the review and refused to comment on the timing of setting it up.