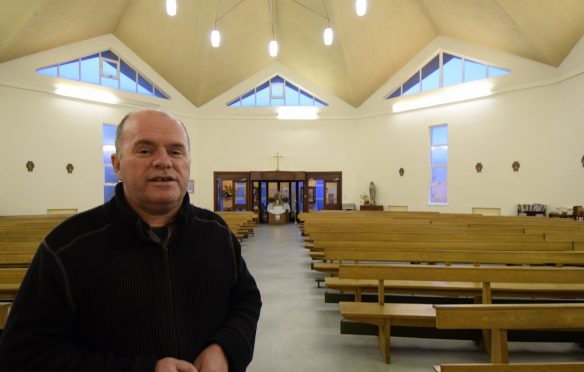 A stained-glass window dedicated to the late Charles Kennedy will be unveiled at his local church next week.
The popular MP, who was a lifelong member of St John's Church at Caol, suffered a major haemorrhage at his Fort William home on June 1 last year, aged 55.
To mark the first anniversary of his death, the window – which features a golden eagle and Ben Nevis – will be unveiled at a special service at the church.
The colourful tribute will also commemorate the former Liberal Democrat leader's parents, Ian and Mary, who provided the music for the vigil mass for more than 40 years.
Father Roddy McAuley said: "The window captures the beauty and the nature of Lochaber.
"It will be a lasting and fitting tribute to Charles and his parents.
"The window is for the adornment of the church and the inspiration of the people who come here."
The window will be installed soon, but will be kept under wraps until the service.
However, Father McAuley revealed the central image will be a golden eagle – the symbol of John the Evangelist – catching a salmon, and the background will include Ben Nevis and the sun.
It will also include a musical notation of the Camerons' March, which was one of the politician's favourite songs, and a treble clef representing his parents.
Mr Kennedy's father died just two months before him, aged 88, two years after the death of his mother.
His parents were both awarded the Benemerenti medal – Latin for the "well deserved" medal – for their services to their church.
A fundraising campaign to cover the £7,500 cost of the tribute was launched late last year, with donations flooding in from across the UK, and even Canada.
Father McAuley said: "We launched a fundraising campaign in November and folk have been very generous.
"Money has come in from Lochaber and all over the UK."
Youngsters from Caol Primary School, who sang a psalm at Mr Kennedy's funeral, will also take part in the service on June 1, which starts at 7pm. It is open to everyone.