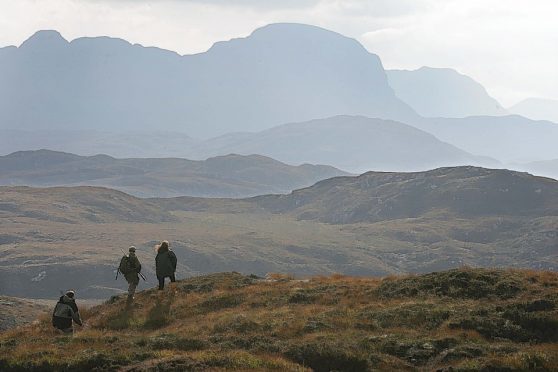 Budding gamekeepers are flocking to sign-up to study the trade at a college in the Highlands, it has emerged.
Lecturers at North Highland College in Thurso reported the trend amid strong demand from sporting estates for graduates from gamekeeping and wildlife management courses.
David Olds, a lecturer at the college, said employers had been impressed with the skills gained by young gamekeepers.
"Scotland's rural industry is ever changing and to keep abreast of new legislation, conservation measures as well as best practice out on the moors, combining tutor-led learning with extensive practical placements is paramount," he said.
"Our modern apprenticeship course is a great springboard for those keen to get into the industry, offering a combination of work-based and college training whilst providing the dual benefit of students gaining a nationally recognised qualification and work experience during placements on an estate.
"We have worked tirelessly on promoting a better understanding of the role modern gamekeepers play and feedback from estate owners is that the skills obtained by our students on the modern apprenticeship, HNC and NC courses are an essential part of equipping the next generation of gamekeepers to manage our countryside."
Jim Goodlad, gamekeeping and wildlife management lecturer at SRUC Elmwood in Fife, said: "It is imperative that the modern gamekeeper of the 21st century is a highly-trained professional possessing an accomplished skill set combining theory with hands-on experience.
"Demand for our gamekeeping NC course is extremely high and having received more than 70 applications for 20 places, we are fully subscribed for the new term."
Savio Genini, 19, grew up in Kingussie and has been working on Pitmain Estate, part of the Speyside Moorland Group, as a modern apprentice since 2013.
It led to him undertaking the National Certificate in Gamekeeping from North Highland College, and was the overall winner of the land-based and Aquaculture Learner of the Year Award 2016, as well as being joint winner of the Game and Wildlife Learner of the Year Award.
He said: "I am passionate about gamekeeping and the work that gamekeepers do in their local communities.
"I grew up working as a beater in the summer and I knew it was always something that I wanted to do. I love working with the grouse and deer in this beautiful scenery."