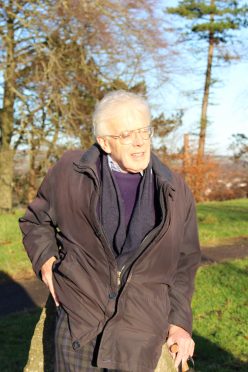 Police are to review the scope of searches for a pensioner who has now been missing in the Highlands for a month.
They have also renewed an appeal for information that could help them trace three men reported missing in the hills in Lochaber – two have not been seen for more than a year.
Roger Fletcher, of Dundee, was last seen when he set out for a walk in the Dornie area of Wester Ross on Sunday June 5.
The alarm was raised when the 77-year-old failed to return to a holiday home in Bundalloch.
Extensive searches were carried out, involving police officers, police and SARDA dogs, Kintail and RAF Mountain Rescue Teams and lifeboat and Coastguard personnel.
These covered the Dornie, Bundalloch and Glenshiel areas and around the A87 Invergarry to Kyle road in the Cluanie direction.
Police also launched a poster campaign, which brought a good response from the public.
A police spokeswoman yesterday said: "A number of sightings were reported, but they did not turn out to be Roger Fletcher.
"There have been no ground searches in the last week or so, but we are going to review the search parameters and remain in touch with his family."
Meanwhile, police are still keen to hear from anyone with any information regarding Eric Cyl, Tom Brown and Goffredo Bondanelli.
Kilmarnock-born Mr Cyl, 62, who lived in the London area, last seen heading for the Ring of Steall in the Mamore range on May 30, 2015.
Mr Brown, 65, from Lanarkshire, went missing after setting out alone in Glen Nevis on July 2 last year.
And German national Mr Bondanelli, 56, was last seen at Fort William railway station on May 3 this year boarding a train to Lochailort, where he planned to start a five-day hike.
The police spokeswoman said: "Any information from anyone who spots something that could help us trace them would be appreciated."
Police can be contacted on 101.