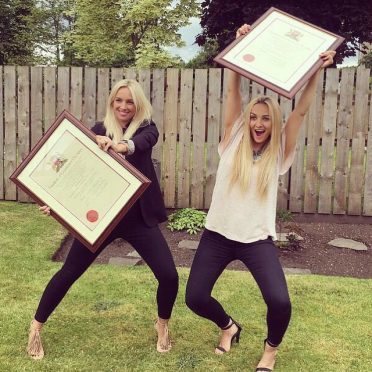 Highland twins Suzanne Grant and Shelley Cowie, who have both played for the Scottish women's national football team, have been awarded the freedom of their hometown.
The 32-year-olds said they were both amazed and honoured to be presented with the Freedom of Grantown on Spey in recognition of their dedication to their sport and the local community.
Miss Grant, who is engaged to Pollok player David Winters, still plays for Motherwell, but retired from the Scotland A Squad when she was pregnant with her two-year-old son Oscar.
She said: "It was so overwhelming. At first I thought it was a joke.
"It's such a massive award that I can't even believe we were nominated for it, let alone getting it.
"It's such a huge honour."
Miss Grant, who has received 106 caps for Scotland during her career, trained until she was seven months pregnant and played 90 minutes for her former club Celtic five weeks after Oscar's birth.
She said she was currently the only mother playing for Motherwell, adding that the club had been very supportive.
Mrs Cowie, who is married to Hearts player Don Cowie and has two children, explained that she hung up her boots when she was pregnant with her first daughter Ava, now aged seven. Her other daughter Ria is four.
She said: "When we were first told we were getting the Freedom of Grantown on Spey, it was pretty surreal.
"It didn't really sink in until we had the presentation.
"It was a lovely surprise and a true honour as we're both very passionate about the little town that we're from."
The twins were presented with their awards at a special ceremony at the Grantown Courthouse.
Highland Council convener Councillor Isobel McCallum opened proceedings with an overview of the highlights of their professional careers.
Councillor Jaci Douglas, Badenoch and Strathspey, provided background on their early lives in Grantown and the inspirational role they have played in the community for many youngsters looking to develop their own sporting aspirations.
And area committee chairman Councillor Bill Lobban concluded the ceremony by congratulating them on their achievements in the sport.
The event was attended by their family, friends and invited guests.