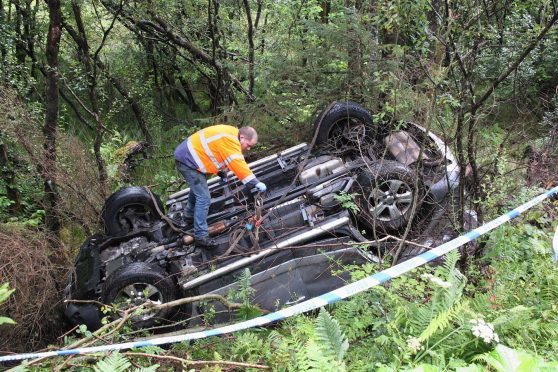 Road engineers were yesterday testing the grip at an accident blackspot on a major Highland route where three vehicles slid off the road in less than 24 hours.
The accidents on the A82 Inverness to Glasgow road happened between Onich and Corran Ferry, near Fort William, in Lochaber, between
11pm on Tuesday July 26 and 10pm the following day.
It is understood that six further vehicles were involved in similar incidents at the location in the previous month.
Following urgent calls for action before someone was killed there, trunk roads maintenance agency Bear Scotland last week carried out work to make the road safer.
A Bear Scotland spokeswoman said: "Retexturing of the road took place on Friday last week after being delayed slightly due to heavy rain."
She said they were grip testing the area again yesterday to measure the improvement.
She said: "The temporary slippery road signs will remain in place until we're content with the improvements in grip."
The spokeswoman also pointed out that the speed limit on this stretch was due to be reduced from 60mph to 50mph.
New signs are already in place, but will remain covered until the new limit comes into force.
The first of the trio of crashes involved a Vauxhall Antara 4×4 driven by Mags Stewart, 28, of Fort William.
She suffered minor injuries when she was left hanging by her seatbelt in her overturned car after it skidded and rolled 20ft down the embankment.
Less than 10 hours later, a Renault Expression car left the carriageway at the same spot, but the driver was uninjured.
And student Laura Tipping, who is originally from Skye but was staying in Fort Augustus, was taken to hospital by ambulance after her head smashed a window when her Vauxhall Astra struck a tree on the way down the embankment.
She suffered concussion and whiplash.
After her accident, Miss Tipping begged Bear Scotland to do something about the road surface before there was a fatality there.