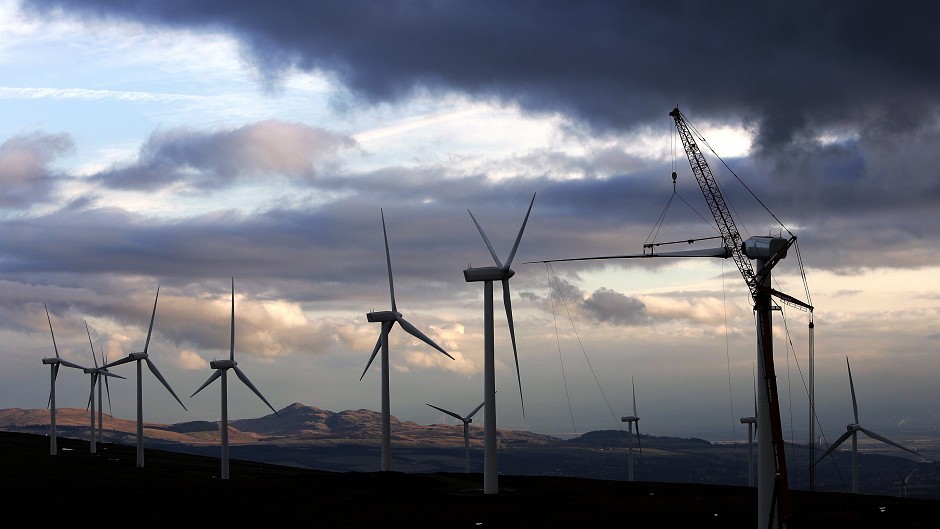 Windfarm operators have been paid a record-breaking £3.1million – for turning off their turbines for a single day.
They raked-in the huge "constraint" payment as they hailed the fact over a 24-hour period they had managed to produce more electricity than Scotland needed.
Turbines are switched off regularly to avoid overloading the National Grid.
And last night anti-windfarm campaigners said it was "disgusting" consumers would foot such a huge bill for the devices lying idle.
Generators boasted that on August 7 – a day of strong winds – "106%" of the nation's electricity needs was produced by Scotland's windfarms.
Power firms are compensated for the inconvenience of having to switch of their turbines.
The total payout for that one day will cost electricity customers £3,137,704. The previous record for a single day – October 26, 2014 – was £3,030,977.
The firms will also get an additional £1million for electricity they were prevented from generating because it was not needed.
The compensation scheme has operated in earnest since April 2011 and since then more than £235.3million has been paid out.
Power companies had celebrated the news that, for the first time, wind turbines had generated more electricity than was used in the whole of Scotland on a single day.
Winds on August 7 gusted to 115mph at the top of the Cairngorms.
Scotland's turbines provided 39,545MWh of electricity to the National Grid, while its total electricity consumption by householders and industry, was 37,202MWh.
Highland-based industry watcher Stuart Young said: "I was disgusted how people were crowing about how much electricity had been generated by wind when customers are going to be hit so hard in their pockets.
"The number of megawatt hours wasted – constrained off – was 46,150. That's equivalent to what the whole of the UK consumes in an hour in winter."
He added: "When people realise what's being done to them, to benefit a small number of wealthy people for no environmental benefit, they're going to be very angry."
But WWF Scotland director, Lang Banks, said: "Those concerned about payments to power firms to reduce their output should be supporting our calls to see improvements to the grid, stronger interconnectors and more energy storage capacity such as pumped hydro."
Mr Young questioned claims by the Renewable Energy Association's head of policy and external affairs, James Court that "grid-scale energy storage is being deployed commercially in the UK without subsidy" and that "renewables such as solar and wind are already cheaper than new gas plants".
But Mr Court, who has accused the Westminster government of standing in the way of green energy, said: "We've seen in the last year both wind and solar projects built without government subsidy.
"The new capacity market regime is being rolled out to subsidise new gas plants, which cannot be without government intervention."
A spokesman for the Scottish Government said: "Constraint payments such as these demonstrate the urgent need for further investment in the electricity transmission network across Britain to ensure it can meet the needs of the 21st century.
"A major programme of grid investment worth billions of pounds is already underway in Scotland."