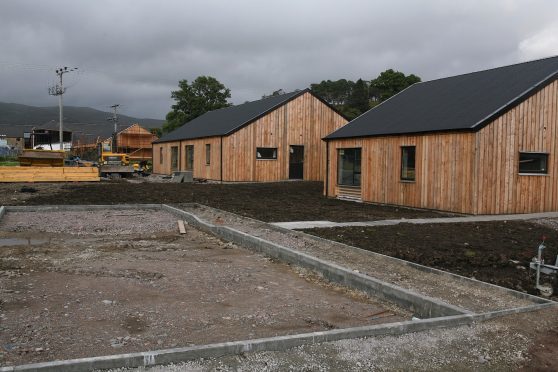 More than 100 new affordable homes are expected to be built in Lochaber in the next three years with 37 already under construction.
These are the first new houses to be built by Lochaber Housing Association (LHA) since financial problems meant it stopped developing new properties four years ago.
However, the affordable housing boom will not be sufficient to meet the requirements in the area, with 644 people currently on the waiting list.
LHA, along with other housing associations, took the decision to stop building in 2012.
But the Lochaber association has since formed a new development partnership with the Highlands Small Communities Housing Trust.
And it has been able to make a start on tackling the lack of affordable housing in the area.
LHA's new chairman Hugh Donaldson welcomed the alliance.
He said: "Our current ambitions extend to delivering approximately 100 more affordable homes over the next three years.
"The Scottish Government has committed to providing sufficient grant support to deliver 50,000 new affordable homes across Scotland by 2020 and we – and the Highland Council – are determined to see that Lochaber plays its part.
"We will be reviewing our borrowing capacity once more and, with the help of Scottish Government advantageous funding terms – such as bond finance – we are hopeful to be able to confirm next year that we can deliver even more new affordable housing."
The 37 new homes currently being built are in the outlying communities of Strontian and Kilchoan and at Heathercroft and Lochyside in Fort William.