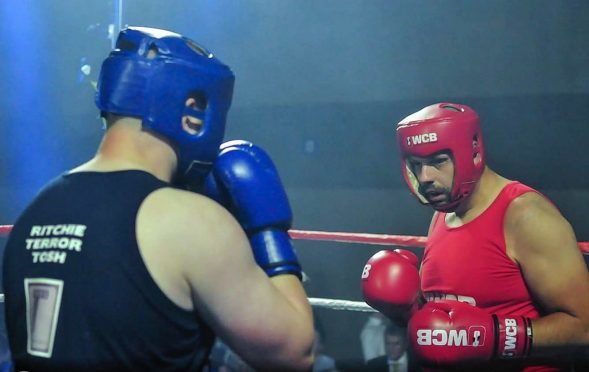 A council body has provoked fury by canceling a charity boxing event just days before it was held in Inverness.
Hundreds of tickets had been sold and at least £7,000 pledged for Cancer Research UK in advance of the showpiece at Inverness Leisure Centre on Saturday.
But bosses at the venue have thrown in the towel at late notice, refusing to host it amid concerns about its planning and insurance cover.
The 11th hour move has provoked an angry response from competitors, spectators and the event's organisers, and the dispute could now be taken to the courts.
High Life Highland (HLH), the council's sports arm and managers of the leisure centre, had taken the booking for the event, which was organised by Ultra White Collar Boxing (UWCB).
It is a corporate boxing venture that trains newcomers to the sport, with rookies taking to the ring to raise money for Cancer Research UK.
Similar events have been held across the country in recent months and years, including in Glasgow and Aberdeen.
However, the sport's governing body, Boxing Scotland, contacted HLH warning of "significant risks".
HLH has now announced that the event will not go ahead as planned.
Simon Macdonald, a father-of-three from Cradlehall in Inverness, fought in Aberdeen at a UWCB event in June.
He said: "A lot of people put a lot of time and effort into training for something like this. The events they put on are very professional.
"I'd just turned 40, so I would probably have been too old to take part in amateur boxing. It's always been something I thought I'd like to try."
Shivonne MacLean, from Invergordon, was among dozens of people taking to social media yesterday to vent their frustration.
She said: "Boxing Scotland should be ashamed of themselves, even more so Inverness Leisure."
Former boxing champion James Ancliff, now a referee, said: "I can vouch for the safety of the events."
Participants get eight weeks of free training worth £300 at a local boxing gym with professional boxing coaches.
At the end of it, they are matched to an opponent based on weight, fitness, ability and age with another rookie from the group they trained with.
All boxers have a medical before and after their bout, which are contested over three rounds of two minutes, with one-minute intervals, with boxers required to wear protective headgear.
A spokesman for HLH said: "We undertook all the usual booking processes involved in hosting such an event and understood from UWCB that all necessary arrangements were in place.
"We then received a communication from Boxing Scotland, at late notice, expressing concerns over the 'significant risk' participants were being placed in."
HLH understood the organisers had £5million of insurance in place for the event, but said it "cannot ignore the concerns".
It is continuing to try to broker discussions between the two parties.
UWCB has held similar events at 100 UK cities for fighters at least 18 years old.
In a letter to HLH, Boxing Scotland emphasised that it was "the only Scottish national governing body for the sport of "open" boxing, previously referred to as 'amateur' boxing".
The letter from Boxing Scotland chief executive Fraser Walker referenced the death of a boxer at a semi-pro boxing event in Nottingham which had been run by the Organised International Boxing Association.
He said his organisation was "unaware as to whether or not white collar boxing bouts are regulated, licensed or properly insured".
UWCB founder Jon Leonard, however, said: "We totally and utterly reject the allegations made by Boxing Scotland.
"I've instructed my solicitors to look into these allegations and I will take the necessary actions to protect the integrity of UWCB.
"Our contract with the venue was agreed in June, at which point we had all the necessary licenses in place. Cancellation of this event will result in Cancer Research UK missing out on around £7,000."
Emma Hallas, senior account executive for Cancer Research UK, said: "UWCB has been working in partnership with us since 2013 and, during that time, have raised £5million for the charity.
"We rely solely on money from our supporters. UWCB has contributed an incredible amount to our scientists and will help us reach our ambition to see three-quarters of people surviving cancer within the next 20 years."